'Despicable' thieves steal poppy tin from London hotel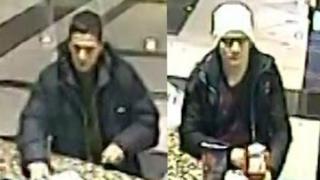 Two men are being sought by police after the theft of a Poppy Appeal collection tin two days before Armistice Day.
CCTV shows one man asking a hotel receptionist for some paper and another taking the money while staff are distracted.
The theft took place at the Renaissance Hotel near London's Heathrow Airport on the night of 9 November.
Det Con Kris Latham from the Met Police described it as a "despicable act".