Medieval London's murder hotspots revealed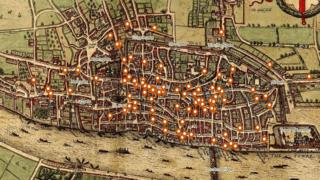 An academic has uncovered medieval London's violent hotspots by cataloguing 14th Century killings.
A bow and arrow-wielding servant and a vengeful backgammon player were among the City of London's killers between 1300 and 1340, according to the University of Cambridge.
A road leading to St Paul's Cathedral was identified as a "homicide hotspot".
Prof Manuel Eisner said the murder rate in London then was up to 20 times worse than in similarly sized UK towns today.
Eel skins and fish guts
Prof Eisner, who directs the Violence Research Centre at the University of Cambridge's criminology department, used nine years of surviving Coroners' Rolls from the first four decades of the 14th Century to understand the context of each of the crimes.
The records documented all sudden and unnatural deaths - whether accidents, suicides or homicides.
Killings were "embedded in the rhythms of urban medieval life", Prof Eisner said.
One victim was shot with an arrow during a student street brawl, another was beaten to death for littering with eel skins, while a third was stabbed by a lover with a fish-gutting knife.
"The events described in the Coroners' Rolls show weapons were never far away, male honour had to be protected, and conflicts easily got out of hand," Prof Eisner said.
Prof Eisner has built an interactive map of the crimes to help make trends clear, such as that 68% of killings happened in London's busy streets and markets rather than behind closed doors.
He found that the two main homicide hotspots were both commercial centres of the time.
The first was a section of Cheapside from St Mary-le-Bow leading up to St Paul's, while the second was the streets surrounding Leadenhall Market in east London.
Knives were the weapon of choice in 56% of killings, the research found.
The next most popular weapon was a staff (19% of cases), followed by a sword (12%), while other lethal weapons used included an axe, a stone, a bow and arrow, and the assailant's bare hands.
You may also like:
Assuming a population of 80,000 based on estimates, Prof Eisner said medieval London murder rates were about 15 to 20 times higher than would be expected in a contemporary town of a similar size in the UK.
However, he said comparisons with modern society were problematic.
Prof Eisner added: "We have firearms, but we also have emergency services. It's easier to kill but easier to save lives."