Moped crime: Police chasing suspects 'risk their own liberty'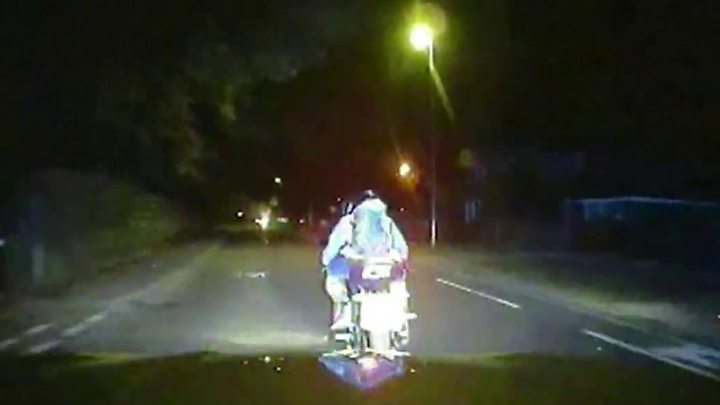 Police officers could be risking their "livelihood and liberty" by driving into suspects on mopeds, a rank-and-file leader has warned.
The Metropolitan Police Federation called for officers to be protected if suspects were injured in police chases.
The industry watchdog is investigating three cases in which riders were hurt in crashes with police vehicles.
The Met said new tactics had helped moped crime in London to fall by 36% year on year.
Ken Marsh, chairman of the Metropolitan Police Federation, said officers could be prosecuted for driving into suspects during high-speed chases.
Mr Marsh called for the Met Police and Independent Office for Police Conduct (IOPC) to explain how officers were protected if "the worst happens" and a suspect was seriously injured or killed as police used "tactical contact" such as crashing into offenders to knock them off their getaway scooters.
"Will they be backed?" he said. "Or... will their livelihood and liberty be put at risk? Because that is the reality. And our major concern."
"Just by launching the pursuit, police officers take a risk," Mr Marsh added.
"There need to be protections around this afforded to our colleagues - both in law, from the force and with public, political and media opinion. They are doing nothing more than their jobs. They must be backed."
The Met has been contacted for comment.
An IOPC spokesperson said only two officers were prosecuted for pursuit-related offences and none were convicted over a five-year period involving nearly 100 independent investigations into death or serious injury caused by crashes involving police vehicles.
The spokesperson added officers are "entitled to use force that is reasonable and proportionate to the circumstances".
Under current rules, any motorist - including police officers - who fails to drive in a "competent and careful" manner can be prosecuted for careless or dangerous driving.
But under proposals made by the Home Office in May, police drivers would be subject to a separate test when determining whether they should face action after incidents.
Ollie Cochran, professional standards lead for the Metropolitan Police Federation, said the legislation was necessary to ensure police officers "are not prosecuted for doing their job".