London volunteers to plant 80,000 trees in one weekend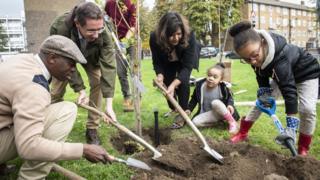 More than 15,000 volunteers aim to plant a combined 80,000 trees in one weekend to help London become the world's first "national park city".
The "plant-a-thon" on 1 and 2 December will include 30 events across the capital as part of a scheme by the city's mayor Sadiq Khan.
He has pledged £5m in grants to help fund community tree planting as part of his £12m Greener City Fund.
The planting weekend will mark the end of the UK's National Tree Week.
Tree-planting events will take place across the city including the largest events in Redbridge, Enfield, Ealing and Lewisham.
On Saturday 500 volunteers aim to plant 15,000 trees to transform Forest Road Recreation Ground in Redbridge into a community woodland to attract bees, birds and butterflies.
Daniel Raven-Ellison, National Park City campaigner, said the project was "all about working together to make our city greener, healthier and wilder".
"Trees make London more beautiful, clean our air and provide valuable habitat for wildlife, and planting them is good for our health and can build friendship," he added.
Mr Khan said the Greener City Fund would "help London reach the goal of being confirmed as the world's first National Park City next summer and expanding the capital's impressive 'urban forest' of eight million trees".
City Hall said the initiative would be "the city's biggest ever mass tree-planting weekend".