'No sprinklers in 96% of London high-rise council blocks'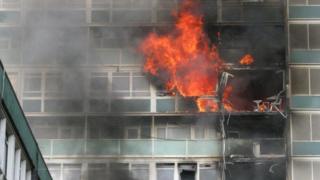 Nearly 18 months since the Grenfell Tower fire, only 4% of London's high-rise council blocks have sprinklers, according to Labour Party research.
The data seen by the BBC shows 32 out of 837 council-owned buildings above 30m (98ft) have sprinklers fitted.
Croydon Central MP Sarah Jones said the government should set up a "fire safety fund" to help councils.
Housing Minister Kit Malthouse said the government has taken steps to ensure the "safety of high rise buildings".
After the 2009 Lakanal House fire in Southwark which killed six people, a coroner recommended councils across the country should consider retrofitting sprinklers in existing high-rise residential buildings.
According to Ms Jones research, before the Grenfell fire on 16 June 2017 only nine towers that are ten storeys or higher had sprinklers fitted.
Several councils across London, including Lambeth, Brent, Camden, Waltham Forest, Wandsworth and City of London, say they have plans to install sprinklers following Grenfell.
But Ms Jones said the government needed to "put money aside" to help local authorities.
She said: "In London we need retrofitted sprinklers fitted in over 800 tower blocks. We really do need that injection from government to support the work.
"Theresa May and the Government said they would do 'whatever it takes to keep people safe'."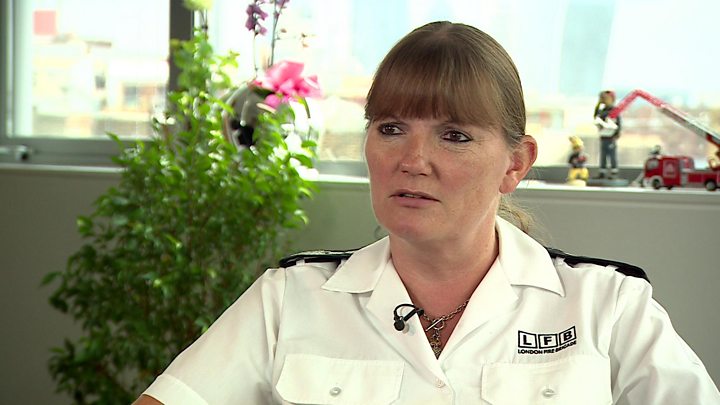 After Grenfell, 23 tower blocks have had sprinklers installed with the majority in high rise buildings owned by Croydon Council.
Angela Bracher, a resident in one of the tower blocks, said the sprinklers in her flat made her feel "very, very secure".
She added: "I was upset about the Grenfell fire, it was so shocking, and it made me feel that I wouldn't live as far as the ninth or tenth floor.
"When we received notice about the sprinklers I jumped. I feel so much more safe."
In Wales, since 2016 it has been mandatory for all residential buildings to be fitted with sprinklers; a move which has been backed by a London Assembly report.
On 22 March, the then Secretary for Housing, Communities and Local Government Sajid Javid told parliament the government would work with councils on "financial flexibilities" over demands for installing sprinklers.
In response to Ms Jones' research Mr Malthouse said the government has taken steps to ensure the "immediate safety of all high rise buildings" following the Grenfell fire.
He added: "We are going to fully fund the removal and replacement of unsafe cladding, like the type used on Grenfell Tower, estimated at £400m.
"Sprinklers can be effective, but they are one of many fire safety measures that can be adopted.
"If local authorities have concerns about the costs of essential fire safety measures, they should contact us to discuss their position and any flexibilities we can offer."