School 'Gay Pride' event prompts Christian group complaints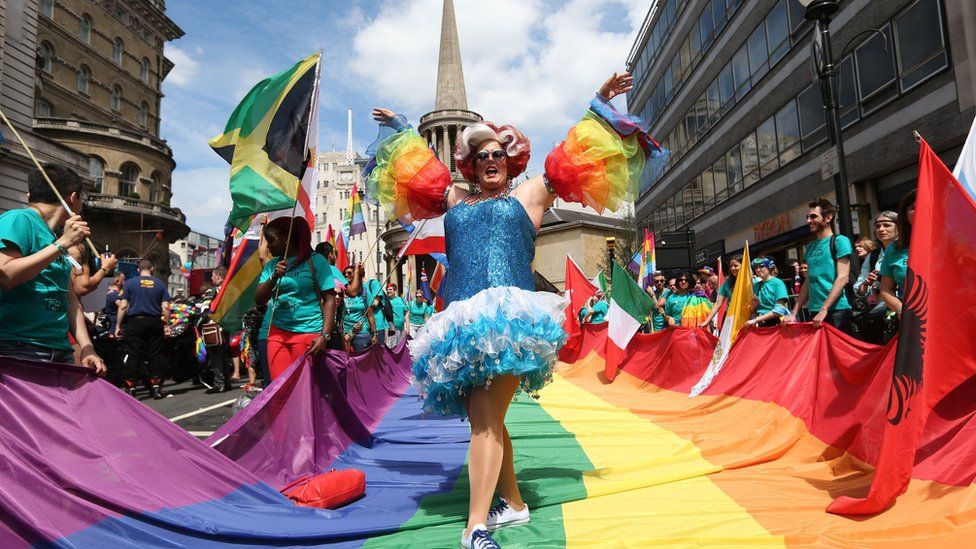 A school may face legal action after Christian parents complained to governors about a "Pride" event it put on for pupils.
Heavers Farm Primary School in south London "victimised parents" who complained about its "aggressive LGBT agenda", a campaign group said.
Christian Concern said it was considering a judicial review.
The school said it would not "shy away" from teaching children about important issues such as LGBT rights.
Head teacher Susan Papas would not comment on individual complaint cases but said: "With pride in British values we have a thread of work - on black history, disability awareness, 100 years since women got the vote - but generally talking to the children about matters of inclusion and diversity.
"Last year we did something for Pride month and focused on what children were proud of.
Alongside that we were doing work on anti-bullying, anti-transphobic and anti-homophobic language. The older children were looking at the history of LGBT rights."
Ms Papas said the Proud to be Me event held on 29 June had "pushback" from some parents "but most of the feedback was really positive".
However, Izoduwa Adhedo said she was "bullied" after she complained that her child was "forced" to attend the event "that goes against our Christian beliefs".
"[The school] stopped treating me like any other parent but were antagonistic towards me... unreasonably excluding me from the premises, victimising my child and not taking my safeguarding concerns seriously," she said.
"I wasn't even trying to stop the Pride event. I just wanted my child to receive an education, rather than indoctrination."
An initial meeting between governors and Mrs Adhedo was adjourned on Tuesday, Christian Concern said.
Andrea Williams, chief executive of the Christian Legal Centre, said the treatment of parents such as Mrs Adhedo has been "one of the most chilling breaches of parental rights I have ever seen".
"A particular agenda is being forced on to children inside the school gates and parents are being given no means to ensure that their children are being taught in line with their religious and philosophical beliefs," she added.
Ms Papas said: "No one was forced but we would expect children to go to any assembly, class or event put on by the school."
"I am not going to shy away from issues that are important for children to learn about."
Related Internet Links
The BBC is not responsible for the content of external sites.