Rail industry 'forgetting lessons' of Clapham disaster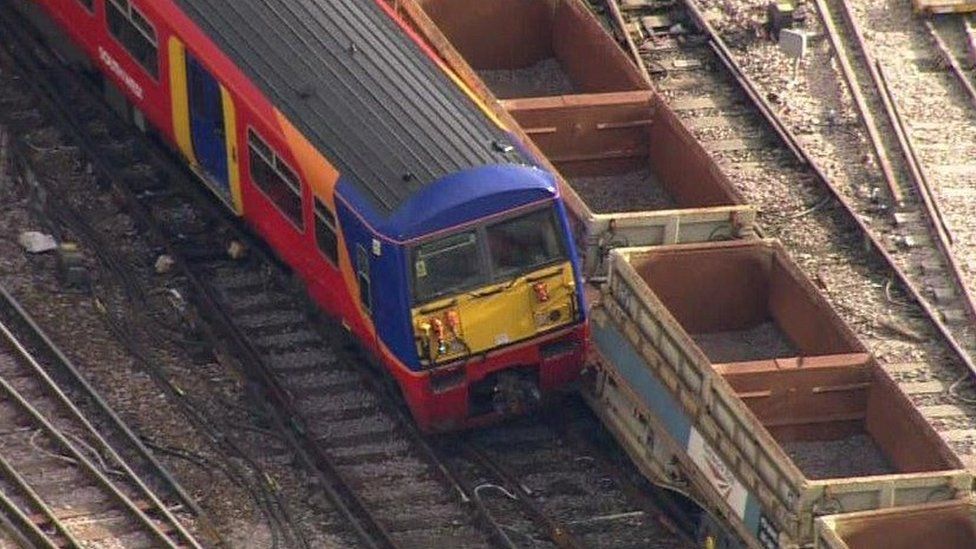 A train which derailed partly because of staff errors points towards suggestions that the rail industry has "forgotten" a similar accident which killed 35 people, a report has found.
No-one was hurt, but a report found mistakes made were similar to those which caused a fatal crash at Clapham Junction in 1988.
Network Rail said the Waterloo crash was "a wake-up call".
The report, published by the Rail Accident Investigation Branch (RAIB), found the passenger train was diverted from its intended route because a set of points - movable sections of track which allow trains to transfer from one line to another - were incorrectly positioned due to "uncontrolled wiring" being added to the signalling system.
This happened after a man employed to test the equipment failed to meet expected standards and "did not fully consider the potential consequences" of adding the wiring, the report said.
It said the tester redesigned faulty wiring without having the relevant licence or authority to do so.
Witnesses said he "had a poor understanding of how testing processes interacted with design and installation processes".
An "underlying factor" in the collision was that Network Rail and its contractors had failed to address the "full requirements" of the staff responsible for the signalling work.
The RAIB found parallels with the Clapham Junction disaster in which three trains collided near the south London station on 12 December 1988, killing 35 people and injuring almost 500 others.
Several of the Hidden report's recommendations to reform the way railway signalling is designed, installed and tested in the UK were not followed in the Waterloo incident, according to the RAIB.
The report said: "Events at Waterloo... suggest that some in the railway industry are forgetting the lessons learnt from the 1988 Clapham Junction accident.
"The RAIB is concerned that the need for rigorous application is being forgotten as people with personal knowledge of this tragedy retire or move away from front-line jobs.
"This deep-seated, tacit knowledge is part of the corporate memory vital to achieve safety.
"Loss of this type of knowledge as previous generations leave the industry is a risk which must be addressed by organisations committed to achieving high levels of safety."
The report made safety recommendations, including that Network Rail should improve the knowledge and attitudes needed for signal designers, installers and testers.
A Network Rail spokesman said: "The Waterloo derailment was a wake-up call for us, and our contractors, and highlighted that we can never afford to be complacent when it comes to keeping our passengers and workforce safe.
"The lessons of Waterloo have already been shared across the industry and these recommendations will help further."