Romford fire: Luxury car showroom blaze treated as 'suspicious'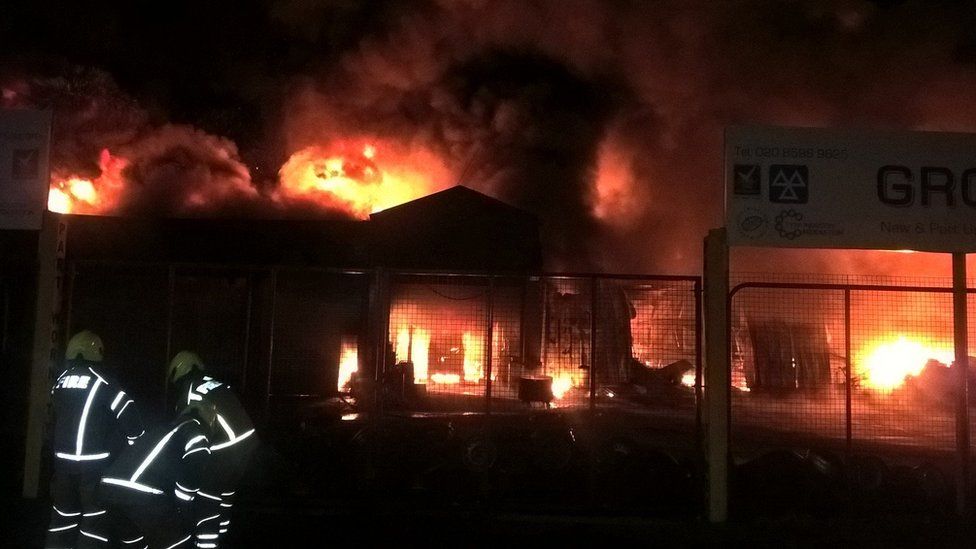 A huge fire which ripped through a luxury car dealership in east London is being treated as suspicious, the Met Police said.
Around 125 firefighters spent almost nine hours tackling the fire at Imperials on the High Road, Chadwell Heath, on 3 November.
Several vehicles, including two Land Rovers, a BMW and a Mercedes, were destroyed in the fire.
Nobody was injured but the showroom and a warehouse were "completely damaged".
Due to the scale of the fire, which was first reported at 22:14 GMT, nearby properties were evacuated as a precaution.
Det Sgt Andy McAlister said: "It was sheer luck that officers came across it when they did before anyone in neighbouring residences was harmed."
Firefighters worked through the night and brought the blaze under control by 07:20 the following morning.
The Met Police has been working with London Fire Brigade (LFB) investigators who say the cause of the fire is now being treated as suspicious.
Related Internet Links
The BBC is not responsible for the content of external sites.