Tributes paid to RAF Bomber Command veteran Harry Irons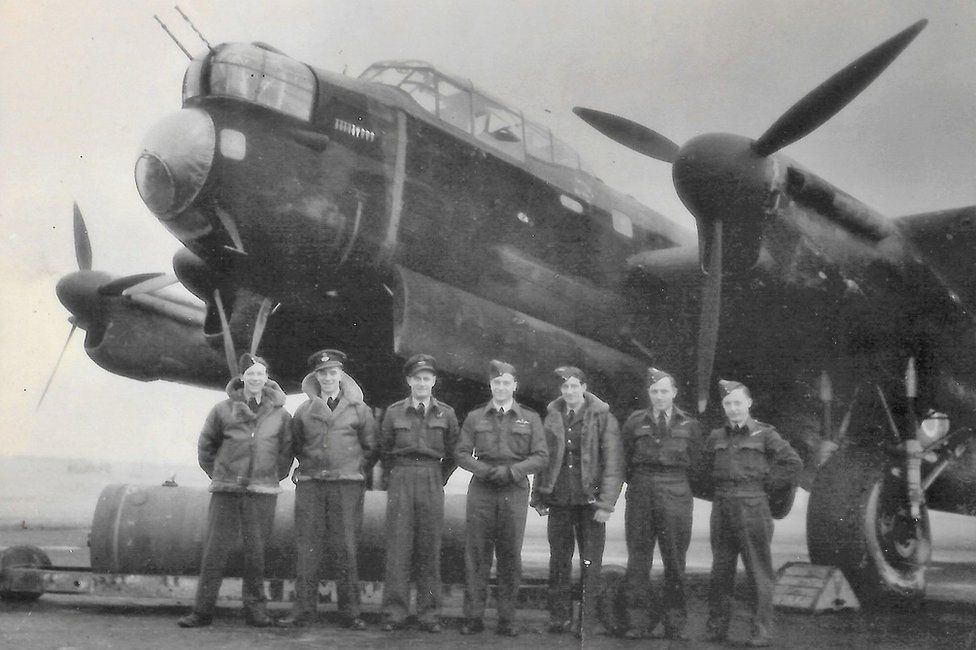 Tributes have been paid to a former Bomber Command rear gunner who lied about his age so he could join the RAF during World War Two.
Harry Irons used his brother's papers so he could sign up in 1940 aged 16 and went on to fly sixty operations.
The International Bomber Command Centre said Mr Irons, who lived in Romford, east London, had died on Saturday at the age of 94.
Nicky Barr, from the centre, said he had a "fantastic story".
Born in 1924, Mr Irons was an apprentice tailor working in the capital before he joined the RAF.
He worked as a rear gunner with 158, 462 and 9 Squadrons, flying out of Lincolnshire.
Among the operations he took part in was the attack on Dresden in February 1945 where thousands of bombs were dropped on the German city, killing tens of thousands of civilians.
Speaking about the raids in 2015, Mr Irons said he "didn't realise how big it was going to be" although he felt no guilt at the time as "we were very young and we lost so many boys ourselves".
In later years he campaigned for greater recognition for those who risked their lives in the bombing raids.
Author and former RAF navigator Flight Lieutenant John Nichol tweeted that Mr Irons was "a real gent with a roguish attitude to life".
Very sad to hear that @RoyalAirForce Rear Gunner, Harry Irons DFC, died yesterday aged 94. He joined up (illegally) in 1940 aged 16, & flew an astonishing 60 ops on Lancs & Halifaxes. He was a real gent with a roguish attitude to life.
Blue skies Harry, RIP Sir. pic.twitter.com/kkufpmnRMW

— John Nichol (@JohnNicholRAF) November 11, 2018
Related Internet Links
The BBC is not responsible for the content of external sites.