Pollution linked to 'stunted lung capacity' in London schoolchildren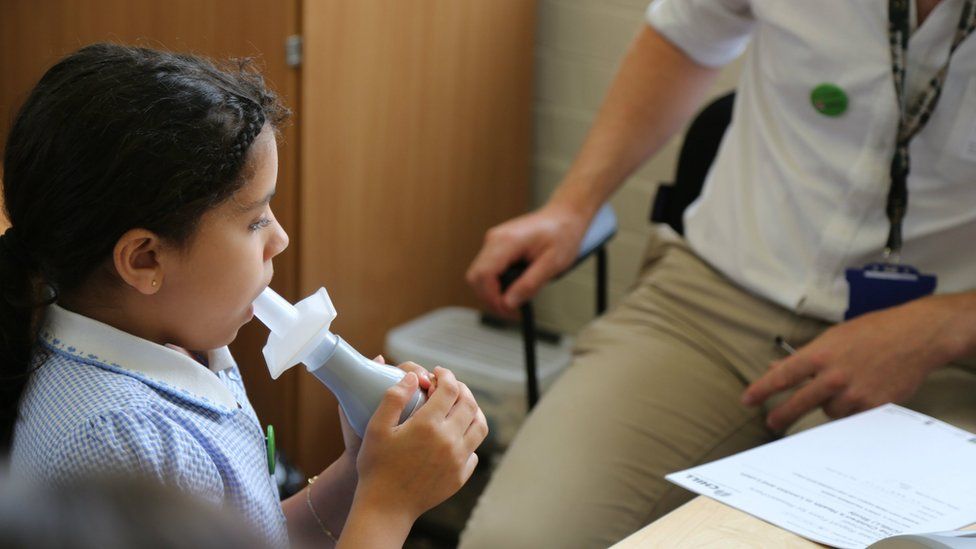 Children living in London boroughs with high diesel pollution suffer from stunted lung capacity, putting them at risk of early death, a study has said.
Pupils living in areas that failed to meet EU nitrogen dioxide limits were at increased risk of lung disease, researchers found.
The research studied 2,000 London school children over five years.
"We are raising a generation of children reaching adulthood with stunted lungs," researchers said.
Professor Chris Griffiths, who led the research, said: "This reflects a car industry that has deceived the consumer and central government which continues to fail to act decisively to ensure towns and cities cut traffic.
"Despite air quality improvements in London, this study shows that diesel-dominated air pollution in cities is damaging lung development in children, putting them at risk of lung disease in adult life and early death."
Exposures of particulate matter, nitrogen dioxide (NO2) and other nitrogen oxides was linked to an approximate 5% reduction in lung capacity.
The study covered 28 primary schools in the London boroughs of Tower Hamlets, Hackney, Greenwich and the City of London - all areas that fail to meet current EU NO2 limits.
Significant tightening of emission controls was needed to ensure full compliance with legal limits for NO2 for London, the report found.
The implementation of Low Emission Zones (LEZ) across London led to a reduction in harmful pollution, though not enough to alleviate symptoms.
In 2008, London introduced the world's largest city-wide LEZ inside the M25 orbital motorway, encompassing about 8.5 million residents.
Dr Samantha Walker, Director of Research and Policy at Asthma UK, said: "It is disappointing that the Low Emission Zone in London has not helped to improve children's lung capacity and shows that a piecemeal approach to reducing air pollution does not work.
"The Government needs to tackle toxic air by putting in place a new Clean Air Act to keep everyone - especially children - safe."
Shirley Rodrigues, Deputy Mayor for Environment and Energy, said: "This shocking report is further evidence of how pollution blights young Londoners' lives.
"[Mayor] Sadiq [Khan] has already introduced the toxicity charge and is cleaning up our bus and taxi fleets. In just under five months' time - in April 2019 - he will introduce the world's first Ultra Low Emission Zone, starting in central London to clean up the capital's air further."