Tinder user jailed for tricking blindfolded men into sex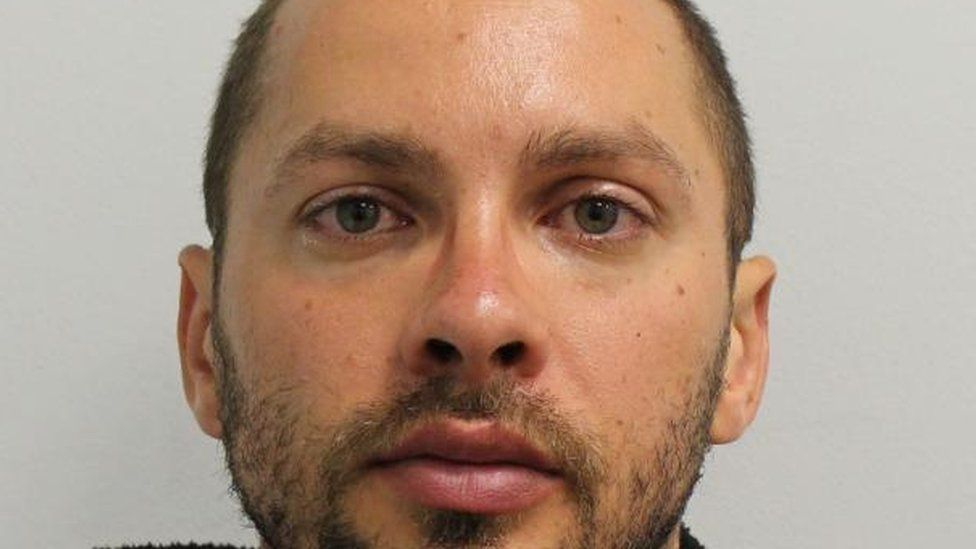 A man who masqueraded as a woman online and tricked four straight men into having blindfolded sex with him has been jailed for 15 years.
Duarte Xavier, 33, posed as "Ana" on dating apps including Tinder and sent provocative images to fool the victims into meeting for sex.
The victims, aged between 26 and 45, were blindfolded during the encounters.
Xavier was found guilty of six counts of causing a person to engage in sexual activity without consent.
During the sentencing at Kingston Crown Court, it was heard that Xavier, of Wandsworth, had committed two offences while on bail.
Judge Michael Hunter said: "By pretending that you were an attractive and sexually adventurous young woman, you tempted them into engaging in sex with you.
"You have demonstrated no remorse or understanding of the position of your victims."
One of his victims was diagnosed with post-traumatic stress disorder (PTSD), the court heard.
Xavier, who committed his offences between February 2016 and April 2018, was arrested twice and released pending inquiries, but he was not charged until his third arrest in April.
The judge questioned whether Xavier was free to offend on bail because his victims were heterosexual men and therefore treated as less of a priority.
Addressing Det Con Lucy Marsh, he said: "It's very rare for a heterosexual male to be a victim of a sexual offence, as we know.
"I hope the fact that these victims were heterosexual males did not cause them to be put rather lower in the list of priorities?"
Det Con Marsh rejected the suggestion and said a "waiting list" for downloading mobile phone evidence led to a delay in the investigation.
Xavier was reported to police after a victim removed his blindfold mid-encounter.
The court heard one victim has been diagnosed with PTSD after being used for Xavier's "own sick fantasy".
He said: "He was so convincing. It was supposed to be a bit of honest fun between two consenting adults.
"I was a people person before and loved meeting new people. Now I feel I'm carrying around a dark secret that will always be part of me. I hope one day I can learn to trust people again."
Related Internet Links
The BBC is not responsible for the content of external sites.