Man, 98, fighting for life after robbery in north London home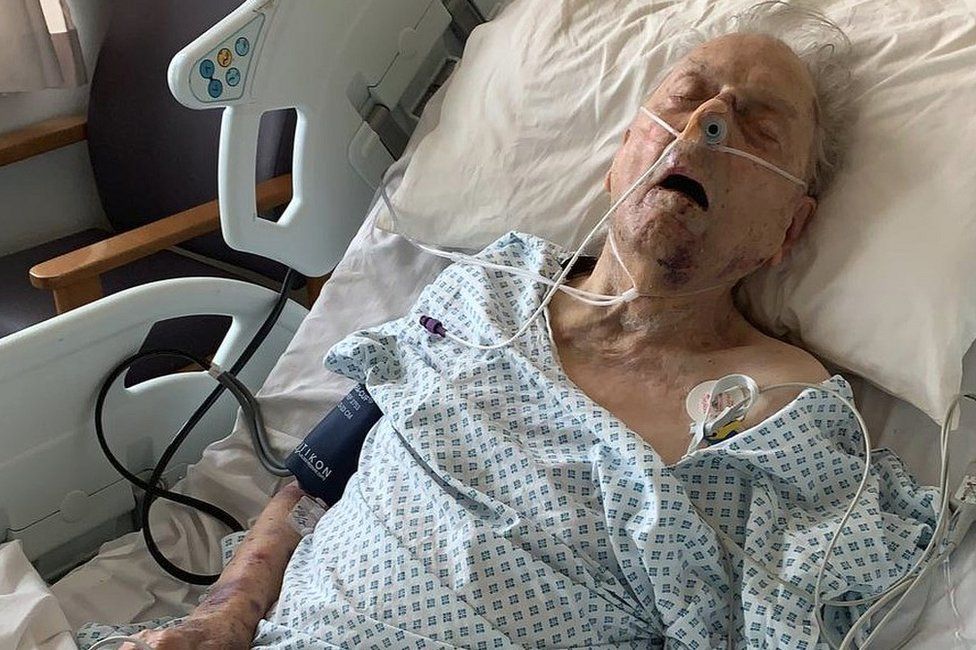 A 98-year-old man is fighting for his life after he was attacked and robbed in his home.
Peter Gouldstone was found with bruising and a head injury at a house in Evesham Road, in the Bounds Green area of north London, on Tuesday.
His son Simon said he "feared the worst" when he found his beaten father in a "semi-conscious state".
The Met Police described it as a "brutal and senseless" attack. No arrests have been made.
Simon Gouldstone said his father was house-bound and suffers from a heart condition.
He described him as "a low key, peaceful and supportive sort of person" who lived in "a fairly peaceful neighbourhood."
Emma Austen, who lives near Mr Gouldstone, said the community is trying to do everything it can to help him and his family.
"A lot of us didn't know him, but we just really want to help in anyway we possibly can", she said.
"If that's via fundraising, helping his family, writing cards - we just want to help. It's a truly awful thing to have happened."
Pio Gomes, 78, another neighbour of Mr Gouldstone, said he rarely saw the pensioner outside his home since his wife died several years ago.
"I used to take his bins out for him because he wasn't steady," he said.
"Of course it affects you because it's worrying. It's callous. Who could have done this to an old man like him?"
One elderly woman, who did not want to be named, said she rang Mr Gouldstone's son after noticing his garage door was open, which was "unusual".
She said: "His son came and then police and an ambulance were here until it was dark.
"I've known him for many years and he has a charming family. It's not nice."
During a search of Mr Gouldstone's home, police officers found a television and other personal belongings had been taken.
Det Insp Paul Ridley said his bedroom had been "ransacked".
"It was an absolutely horrendous attack on a vulnerable man who has medical conditions," he said.
"The level of violence used was beyond belief."
Mr Gouldstone spoke to a family member by phone on 5 November at 14:00 GMT - police believe the attack took place in the 20-hour window between then and when he was found.
He remains in a life-threatening condition at an east London hospital.
Related Internet Links
The BBC is not responsible for the content of external sites.