Grenfell Tower bonfire 'disrespectful' says Theresa May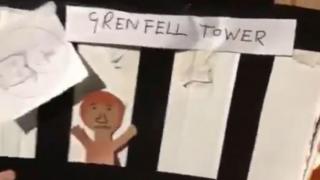 A group of people who put a model of Grenfell Tower on a bonfire acted in an "utterly unacceptable" way, the prime minister has said.
A video shared on social media shows a cardboard model of the tower being set alight by a laughing crowd.
Theresa May tweeted: "To disrespect those who lost their lives at Grenfell Tower, as well as their families and loved ones, is utterly unacceptable."
Scotland Yard said the Grenfell Tower investigation team is making inquiries.
Housing Secretary James Brokenshire said the group's actions were "beneath contempt".
A total of 72 people were killed in the devastating blaze at the west London tower block in June 2017.
Commander Stuart Cundy, from the Met's Grenfell Tower investigation team, said any offences committed would be "fully investigated".
"I am frankly appalled by the callous nature of the video posted online. To mock that disaster in such a crude way is vile," he said.
Mr Cundy appealed for anyone with information to contact police.
Dany Cotton, commissioner of London Fire Brigade (LFB), said the footage "cannot be justified on any level".
'Sickening video'
The Justice4Grenfell campaign group said the video "has caused great alarm and distress".
The group said: "This is clearly a hate crime and as a society we should never tolerate these types of blatant acts of hatred.
"We have an expectation that the police will look into this robustly and that the perpetrators will face the full force of the law."
London Mayor Sadiq Khan backed Justice4Grenfell's call for the video to be removed from social media.
He said: "I utterly condemn this sickening video... I urge social media companies to do the right thing and remove this content immediately."
Natasha Elcock, from Grenfell United, said: "Not only is it extremely upsetting to survivors and people who lost family, it's hateful and offensive to everyone that has been affected by the tragic events of that night."
The video has not yet been verified by the BBC.