'Spider-Man' Alain Robert scales London's Heron Tower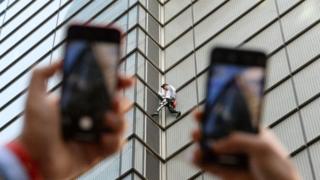 A French urban climber, dubbed Spider-Man for his feats, has scaled one of London's tallest buildings without safety gear.
Alain Robert, 56, completed his bare-handed ascent of the 662ft (202m) building at 110 Bishopsgate - known as the Heron Tower - in 40 minutes.
Police confirmed he had been arrested for causing a public nuisance.
His ascent took officers "away from genuine emergencies", City of London Police said.
Cdr Karen Baxter said: "The incident this afternoon has had a considerable impact on police, other emergency services and the local community.
"Road closures meant a significant disturbance to local transport and businesses and their staff located in the building were also considerably affected.
"While the incident has caused immense disruption to everyday business in the City of London it also posed a significant level of risk to the safety of people in and around Heron Tower at the time."
Before the climb, Mr Robert said: "I fully feel alive when my life is at stake."
The rock climber turned his attention to skyscrapers in the mid-1990s and has now done up to 160 of these ascents to date, according to his manager.
Landmarks tackled include the Taiwan's Taipei 101, the Lloyds building in London and Dubai's 2,717ft (828m) Burj Khalifa.