Man, 101, receives freedom of City of London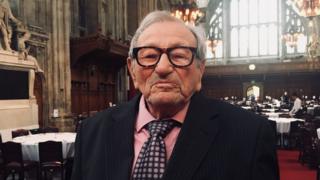 A 101-year-old man, who was born during a Zeppelin raid and lived through two world wars, has been awarded the Freedom of the City of London.
Manny Blankett - the oldest living man in the Square Mile - received the honour at a ceremony on Wednesday.
Jason Pritchard, of the City of London, who nominated him, said Mr Blankett "really deserved to be spoilt".
The Freedom of the City dates back to 1237 and is given for outstanding contributions to London life.
Mr Blankett was born in the East End on October 17, 1917.
He lived through World War One and then the Blitz, and travelled to India before serving in WW2.
"It took a month to get there. It was quite a thing," he told the Local Democracy Reporting Service.
Mr Blankett worked as a hairdresser, then in the family fur business, and later as a lifeguard at the Serpentine Lido in Hyde Park.
Mr Pritchard said: "I am really chuffed we could do this for Manny and give him his special day. He really deserves to be spoilt.
"He is a such a special individual who is defying his age.
"Even at 101 years old he is still so nimble on his feet and mentally he is as bright as a button."
Mr Blankett, who is a vegetarian, said he never drinks more than a "small drop of wine or a shandy".