Corey Junior Davis: Shot boy 'treated like criminal'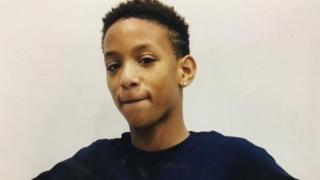 A murdered 14-year-old was treated like a criminal when he told authorities he felt unsafe, his mother has said.
Corey Junior Davis was shot dead in a playground in Newham, east London, on 4 September 2017.
A review said Corey, who once ordered a bulletproof vest for protection, was seen as an offender and not an exploited child when he aired his fears.
The area's mayor said she was "profoundly sorry" for Corey's death.
A serious case review found the teenager had been groomed by gangs from the age of 13.
It said Corey, who had severe ADHD but had achieved above-average grades in primary school, was not properly catered for when he moved to secondary school.
'Lens of exploitation'
He was eventually excluded, and placed in a pupil referral unit where he fell into the clutches of gangs.
While at the unit, Corey was caught by police carrying a "Rambo knife", which he said was for protection, and he told social workers he was worried about his safety.
The review said it had taken "courage" for him to "confide these things to adults... [but] he wasn't seen through the lens of exploitation but as an offender".
"Despite Corey being described as a chatty young man, his 'voice' was rarely truly heard and even more rarely adequately responded to."
After her son went missing for a week, Corey's mother Keisha McLeod moved him to his uncle's house in south London for his safety.
'Clear dangers'
She also repeatedly warned authorities, emailing a social worker to say it was "a life-or-death situation".
Speaking to the Local Democracy Reporting Service, Ms McLeod said her son "was a beautiful, funny, bright young man" who had been "treated as a criminal when he was alive".
"If my son had grown up somewhere else, if he hadn't been in Newham, this wouldn't have happened to him," she said.
Mayor Rokhsana Fiaz said the review showed Corey faced "critical risks... that weren't sufficiently understood but pointed to clear dangers to his life."
She said the council was now following "a public health approach with better systems".
Anne Longfield, the children's commissioner for England, said Corey had been "let down by a system that is supposed to be there to keep him safe".
She called for more of a "joined-up approach from councils, schools, the police, community organisations and families so that those at risk [of being groomed by gangs] are identified early and given proper help".
Nobody has ever been arrested over the 14-year-old's death.