Concern over rise in foragers in London's Royal Parks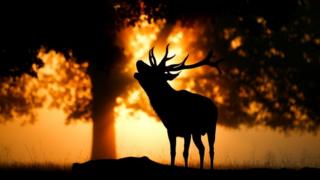 London's Royal Parks saw a 600% rise in the number of people cautioned for breaking a ban on foraging in its parks in one year, figures show.
Thirty-five police warnings were issued in 2017 with one person being taken to court for picking wild produce, the Royal Parks charity said.
Police said they had apprehended people with "shopping bags full of chestnuts".
The ban on picking nuts and mushrooms in parks like Richmond and Bushy is in place to protect the local wildlife.
Royal Parks said the rise in the numbers caught foraging between 2016 and 2017 was "extremely concerning".
While figures have not been provided for before 2016, police said they were now coming across evidence that some people may be using the areas to "pick-for-profit".
The charity manages a number of parklands in the capital including Green Park, Greenwich Park and Kensington Gardens and is concerned foraging is depleting the amount of food available to resident wildlife.
Deer herds need to gorge on sweet chestnuts following the breeding season to put on weight to help them survive the winter.
Mushrooms provide food as well as a habitat for a range of species while also aiding the decomposition of dead plants.
The parks' head of ecology, Julia Balfour, said that "protecting wildlife and the biodiversity" of the parks was "an ongoing challenge".
"We need the public to work with us on this," she said.
"The parks are here for the public to enjoy - they are not anyone's personal larder," PC Paul Barber from the Royal Parks Operational Command Unit said.