Paddington station: 'Near normal' service after rail chaos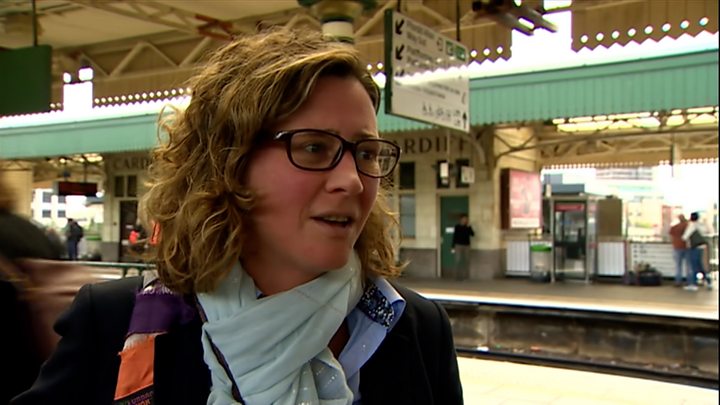 Rail passengers have faced further disruption on trains to and from London Paddington.
The chaos was caused by damage to 500m of overhead power cables inflicted during a train test run on Tuesday.
There were delays and cancellations to key routes on Wednesday but services returned to a "near normal" level on Thursday morning, Great Western Railway (GWR) said.
But some disruption continued between London and Reading.
Engineers worked overnight to repair the closed lines.
A small number of trains have been cancelled this evening, with other services running more slowly or starting from different stations.
A spokesman said of more than 400 trains which ran this morning, two services were cancelled, while seven did only part of their scheduled routes as a result of the disruption.
TfL Rail trains are running as normal and Heathrow Express services are running every 30 minutes, National Rail said.
Some changes are expected to GWR commuter services to destinations in the Thames Valley, such as Maidenhead and Twyford, on Thursday evening.
Travel chaos on Tuesday night and all day on Wednesday affected GWR, TfL Rail and Heathrow Express passengers from as far as south-west Wales, Bristol, Exeter, Plymouth and Penzance.
A reduced service began running at about midday on Wednesday but disruption continued throughout the afternoon and into the evening.
Power cables were ripped down and "strewn across all four tracks out of Paddington" at about 19:30 BST on Tuesday as a high-speed Hitachi class 802 Intercity Express Train was being tested ahead of its handover to GWR, Network Rail said.
The "extent of the damage" to the power cables meant the repairs could not be completed in one night.
A spokesman said damaged equipment was removed for "forensic analysis" and a "thorough" investigation would take about a week.
"Many thousands of passengers have had a tough few days trying to travel along the Great Western Main Line for which we sincerely apologise," Network Rail added.
GWR is investing £500m in a fleet of 36 Class 802s by Hitachi. This is part of an overall order of 93 trains from the Class 800 Series which are replacing the operator's high-speed rolling stock by the end of next year.
Hitachi said a "full and thorough" investigation would take place to find out how the damage occurred.