Westfield Shopping Centre: Man 'falls from height'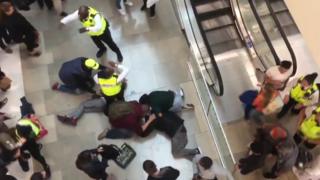 Two people were injured when a man "fell from a height" on to a woman at a shopping centre in east London.
Emergency services were called to Westfield Shopping Centre in Stratford at about 16:00 BST after reports a man had fallen and a woman was injured.
The Met Police has said both remain in hospital, but their conditions are not thought to be life-threatening.
Eyewitness Aroosa Kainat, who was shopping near the escalators, described seeing "a man mid-air" falling.
She added that he "bounced off the glass panels".
London Ambulance service said the pair were taken "to hospital as a priority".
In a statement, Westfield said: "The safety and security of our customers is our highest priority and our security team were immediately at the scene to help.
"We are working with the emergency services as they investigate the incident."
Police said inquiries into the circumstances were under way.
In 2013, two people were injured at the same shopping centre after a man fell from the upper floor and landed on another.