Paddington station: Passengers face major disruption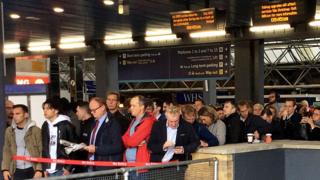 Rail passengers are facing major disruption after a test train damaged power cables near one of London's busiest stations.
Services between Paddington and Slough started running at midday, after 500m of overhead cables were "severely" damaged during a Hitachi train test run on Tuesday night.
Trains between Paddington and Heathrow Airport have also begun to operate.
However, travellers are likely to be affected all day, Network Rail said.
The disruption has affected passengers as far as south-west Wales, Bristol, Exeter, Plymouth and Penzance, Great Western Railway (GWR) said.
Trains between Reading and Paddington have started running, but Dan Panes from GWR warned "disruption will last for most of today [at the] very least".
Heathrow Express services got under way at about 12:30 BST.
However, a train at Acton which broke down at about 15:00 led to further cancellations of newly reinstated trains.
Cable damage was caused at about 19:30 on Tuesday as a high-speed class 802 Hitachi train was being tested between London and Bristol.
Network Rail said disruption was caused by "500m of extensive damage caused to overhead power lines in the Hanwell area".
A Hitachi spokesperson said that "after years of successful testing on the route" it was holding "a full and thorough investigation" to identify the cause of the damage.
The company said the train had not yet been handed over to GWR but was due to enter service on its Devon and Cornwall route.
The fault comes weeks after hundreds of passengers were stranded for six hours in September when a similar train built by Hitachi for GWR broke down just north of Exeter.
GWR said the incidents were unrelated.
It added: "Owing to the extent of the damage, no trains are expected to be able to operate between London Paddington and Hayes & Harlington in either direction for much of Wednesday."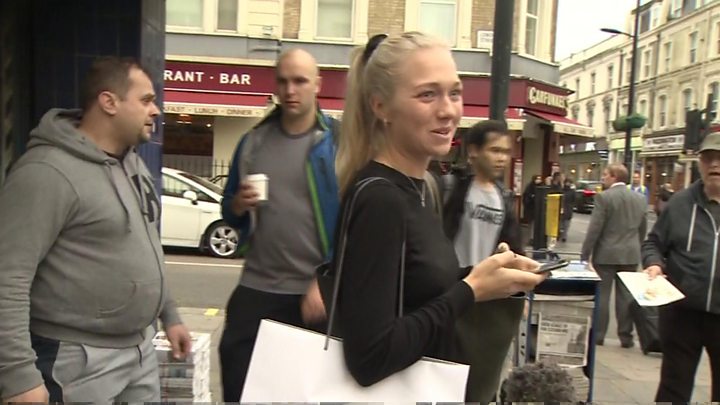 South Western Railway warned customers their trains in and out of London would be "very busy" as a result of more people using their services.
Waterloo Tube station also had to be closed temporarily due to overcrowding during the morning rush hour.
Jason Stanton's journey home from London to Malvern Link on Tuesday evening took almost six hours longer than usual, and he arrived home at 04:00 on Wednesday.
After being told by rail staff members to go from Paddington to Waterloo, the 35-year-old then called GWR's customer service phone number. Advisors told him to go back to Paddington.
"When I got to Paddington there were lots of angry people and British Transport Police had to step in," he said.
BTP confirmed that it had to "assist staff with the movement of passengers" at about 21:30 on Tuesday, but said no crimes had been committed.
Commuters at Reading station described a "wall of passengers" trying to board alternative trains to London while services were suspended.
Andy Moisey said on Twitter: "I have just arrived at Reading from Wokingham trying to get my connection to Basingstoke to be met with a wall of passengers.
"It's carnage with no-one informing passengers that arrive to change at Reading."
Another Twitter user "welcomed" the bus replacement service because it brought a "surprise of nostalgia".
Network Rail had issued advice on alternative routes for passengers affected including a replacement bus service for those heading to Heathrow.
Two out of the four lines usually used reopened at about midday, after engineers spent the morning clearing debris from the track, a spokesman said.
TfL Rail services were suspended until about 13:00, when a severely delayed service resumed.
One commuter said his alternative route to get to a meeting in Bristol would add an hour and a half to his journey time.
"They told me as an alternative route I'll have to go from here to Waterloo, from Waterloo to Reading, and from Reading then to Parkway," he told BBC London.
"It's not convenient, but we have no other option," he said.
Sam Haworth, from Reading, said he would be about an hour and a half late for work.
The 32-year-old added: "Before I arrived at the station I didn't know there were issues. I should have stayed in bed."
Wayne Noir, from Reading, said he had been "running around doing nothing" for two hours.
Mr Noir, who was trying to get to Ealing Broadway, said: "I have been literally going back and forth, looking online on my app and then the screens.
"I keep going from platform to platform and then it says it's cancelled. No-one said anything about it being so long. I actually thought it would be one train, not all of them."
There were also major delays for commuters using Victoria Station on Tuesday evening after an electricity supply failure.
Ron Walker, 27, was on a train from Bristol to London on Tuesday night when it came to halt at Reading.
He spent £110 on a taxi to London because he "desperately" had to get to the capital for work at 07:00 on Wednesday.
"The man came over the Tannoy saying there were no trains going to Paddington as there were damaged overhead lines in London somewhere," he said.
He said to get off and ask people on the platform about other trains, but there was nobody on the platform.