Will added noise make London's buses safer?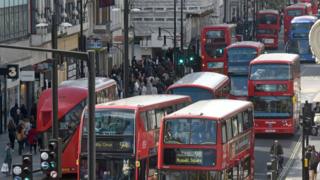 Last year there were 363 casualties involving London buses, including five fatalities.
And while the number of deaths is the lowest on record, the mayor and Transport for London (TfL) acknowledge more needs to be done to make them safer.
The aim is for no-one to be injured on, or by, a London bus by 2030.
London's buses are the engine of the capital with 6.5 million journeys every day, more than any other form of transport.
So, today at Millbrook Proving Ground in Bedfordshire - which is better know for secretively testing new models of car - TfL launched its bus safety standard.
It has examined different technologies it now wants bus operators to phase in on new buses by 2024.
Among the most eye-catching is the addition of a sound to electric buses to make them audible for pedestrians.
There will also be automatic braking, speed limiters, crumple zones on the front of the vehicles and better mirrors to eliminate blind spots.
Heidi Alexander, deputy mayor for transport, said: "Although progress has been made making our buses safer, every single death or serious injury on our roads is unacceptable, and I'm delighted that London is leading the way across the world using technology to make buses safer for everyone on our roads.
"We've set ambitious targets to improve road safety and Londoners will see noticeable and practical improvements to buses from next year, including better mirrors, audible alerts for pedestrians, and innovative designs to the inside of buses."
Bus safety campaigners, like Tom Kearney who nearly died after being hit by a bus on Oxford Street, have welcomed the focus on bus safety.
'A year late'
But they will reserve judgement until they see improvements.
The measures are "a year late", "only apply to new buses" and "do not go far enough", according to Caroline Pidgeon, chair of the London Assembly transport committee.
She said: "TfL's own data shows there is a 13% increase in the number of pedestrians being hit by a bus and an 11% increase on those being injured while aboard a bus.
"All this is on the backdrop of falling numbers of passengers using buses, so these statistics are alarming.
"There is clearly a pressing need for action right now beyond technological enhancement in the future.
"TfL should set safety targets for bus operators. We suggest the best way to do this is to integrate safety targets in the contract performance target structure as soon as possible."