London's firefighters given new 'life-saving' smoke hoods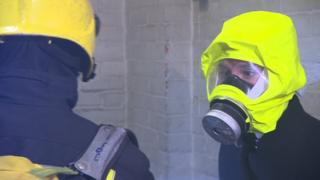 London's fire fighters will carry "life-saving" hoods to protect people from toxic smoke in a blaze.
The smoke hoods will give up to 15 minutes protection by filtering out carbon monoxide, hydrogen cyanide, hydrogen chloride and acrolein gases.
The new equipment comes as London Fire Brigade (LFB) aims to learn from the Grenfell Tower fire disaster which killed 72 people last June.
Kent Fire and Rescue Service will also be giving the hoods to its crews.
Around 600 smoke hoods - costing £97 each - will be rolled out to London's 102 fire stations over the next few months.
The devices do not provide oxygen, but temporarily filter toxic gases out of smoke to make breathing easier. They can only be used once..
LFB's assistant commissioner Richard Mills said the hoods would "filter out the four most dangerous gases".
He added: "Rather than carry out every rescue as fast as possible, fire escape hoods will provide fire fighters with vital extra time to consider their priorities and plan the safest exit route.
"We've worked closely with the Fire Brigades Union to introduce these fire escape hoods as part of fire fighting kit."
---
Analysis
By Karl Mercer, BBC London
By the end of November the new hoods will be on every fire engine in London, one with every fire fighter who carries breathing apparatus.
They're the first physical signs of change and public reassurance to come in the wake of the Grenfell fire
The disaster has changed the political will, and importantly loosened the purse strings.
City Hall asked the fire commissioner to draw up a list of new kit that could be needed and now that money, around £6m, is being spent.
The brigade is learning lessons and may well face some criticism when the Grenfell Inquiry reports back.
But it is also true to say that there is a limit to what they can do without political and financial support.
---
The Fire Brigade's Union's Gareth Beeton described the new equipment as "life-saving".
He said: "Fire escape hoods will, for the first time, enable London firefighters to rescue people from fires whose escape route is blocked by an unbreathable atmosphere."