Westminster councillor Robert Davis resigns over conduct investigation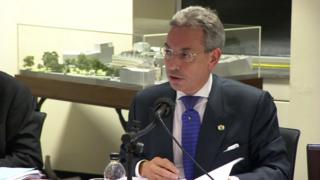 The former deputy leader of Westminster City Council has resigned over an investigation into his conduct.
Since January 2015, Tory councillor Robert Davis has enjoyed 514 "gifts and hospitality" in his council role.
He referred himself to the council's monitoring officer in February, who concluded that he did not act unlawfully but that he had breached the councillors' code of conduct.
Council leader Nickie Aiken welcomed his decision.
Mr Davis, who spent 17 years as chairman of Westminster City Council's planning committee, received hospitality from several property developers.
Under council rules any gifts and hospitality packages costing more than £25 have to be declared, and Mr Davis's register includes trips to Switzerland, Spain, France, the US, and a five-star resort.
Hazel Best, who investigated the case on behalf of the council, wrote in her report that while the "acceptance of a large number of gifts and hospitality was not unlawful", Mr Davis "has prima facie breached the code of conduct" because a few of the gifts received from developers involved in the planning process were "too close to the planning application or decision".
In accepting the "large scale of gifts and hospitality", Mr Davis did not promote and support high standards of conduct through leadership and by example, as prescribed by the code.
"His conduct has attracted media and public attention which has an impact on the council as a whole," she wrote.
'Time to move on'
Mr Davis said in a statement that while he disputed his actions brought the council into disrepute, he wished to "draw a line under the matter".
"It is now time for me to move on to the next stage in my life, and for the next generation of councillors to lead Westminster," he added.
Ms Aiken said: "I believe councillor Robert Davis has made the right decision to step down.
"Our residents rightly expect the highest standards of those in public office. The planning process must be and be seen to be impartial."
The report is due to be published on the council's website on Thursday.