Shaun Bailey: Tory mayoral candidate defends 'single mother' comments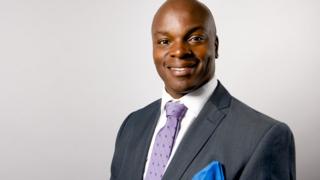 The Conservative candidate for the 2020 London mayoral election has hit back at criticism over comments he made about single mothers.
In a research paper published in 2005, Shaun Bailey said a two-parent household - "should be the norm", as opposed to single mothers, and that good-looking girls tend to "have been around".
Labour said he had "a regressive attitude."
Mr Bailey dismissed it as "politics".
Responding to Labour's attack, the 47-year-old, who was himself brought up by a single mother, said on Twitter: "In 2005, I wrote about what it was like growing up around the estates of Ladbroke Grove because it felt like nobody was writing about lives like mine. Now my words are being used to attack me. That's politics, and I'm up for it.
"But we're never going to tackle the problems facing some of our poorest communities if we only listen to career politicians. We need to hear other perspectives, even if they're raw and still developing.
"Coming into public life has given me a broader and more rounded perspective to London's problems. That's why I'm running to solve them."
In the article, first discovered by Buzzfeed, Mr Bailey says that because single motherhood became acceptable, mothers and daughters ended up "fighting for attention from the men", and that young girls "mistook sex for affection".
Marriage, he said, did "not exist amongst the black community" and argued that government policy made it more lucrative for parents to present themselves as single parents.
"But if you have to be estranged from your father in order to survive financially there's a problem," he wrote, adding that this was "an example of how we are trapped by government policy".
If black men "don't have to fully support their family, it becomes a war between what you want as a man, and what your family needs as a unit" leading to a "constant conflict and you swing between the two".
He also said the single mothers he saw on the estate were struggling with loneliness and depression.