William Hill shop sign which killed man was 'a good fix'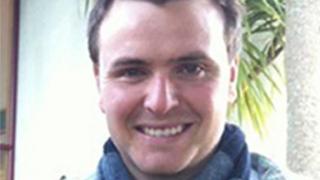 A worker who installed a 31 stone (200kg) sign above a bookmakers which fell and crushed a man has told a court it was "a good fix" when he put it up.
Jacob Marx had been working in London for four months when he was crushed by the sign outside a William Hill bookmakers on 28 January 2013.
Carlos Park told Blackfriars Crown Court the fascia he attached the sign to had been "solid".
William Hill Organisation Ltd denies breaching health and safety.
New Zealand national Mr Marx, 27, suffered a broken neck and a fractured skull after the sign fell 2m on to him outside the bookmakers in Camden Road.
The court heard Mr Park was working for Saltwell Signs when he fitted the sign in 2006.
He told the jury he had got a "good fix" to the plywood fascia when screwing it up.
"The fascia was solid. I can tell when I am taking the screws out (of the old sign)," he said.
Mr Park said he carried out a visual inspection of the plywood "to see there is not any rot" but added that the fascia "should be fit for purpose when I turn up."
Former Saltwell's factory manager Terrance English told the court the sign fitter was not responsible for checking the building's structure.
When asked by John Cooper, defending William Hill, if the fitter had no responsibility for the structure below he said: "Yes, just the fascia, not the structure itself."
William Hill Organisation Ltd denies one count of failing to ensure the safety of non-employees and one count of failing to ensure the safety of employees.
The trial continues.