False widow spider infestation schools to remain shut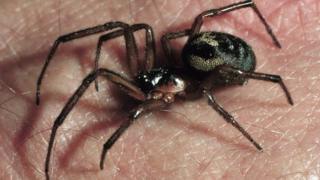 Two of four London schools which have closed due to infestations of false widow spiders are expected to stay shut until the end of the month.
Lister Community School and Rokeby School are not due to reopen until 29 October, after the half term holiday.
False widows are about the size of a 50p coin and are the most dangerous spider species in the UK.
Another two schools which are also in the borough of Newham have also been affected by infestations.
Monega Primary School closed on Thursday but will open again on Monday, while Earlham Primary in Forest Gate briefly shut before being declared spider free on Thursday, the Local Democracy Reporting Service reports.
In letters to parents, the headteachers of Lister Community School and Rokeby School said pupils would be set work to complete at home.
Work to fumigate two primary schools which have also been shut because of the spiders is expected to last until next week.
The headteachers of Ellen Wilkinson Primary School in Beckton and Star Primary School in Canning Town said they hoped to reopen once the spiders have been cleared.
A spokeswoman for Newham Council said the closures have been implemented "at the head teachers' discretion [...], as these infestations were in a number of locations across the school sites".
She said the council was working with all the schools to ensure "children can continue to receive an education".
---
False widows - Britain's most venomous spider
There are reports of false widow spiders becoming uninvited houseguests in homes across the UK every autumn
False widow spiders arrived in south-west England in the 1870s
It is Britain's most venomous spider, although there are no reported deaths from its bite in the UK
The spider has distinctive cream markings on its bulbous body and is brown with reddish-orangey legs
It prefers warm, dark places and eats insects, invertebrates and other spiders
Source: Natural History Museum