Tory London mayor candidate's comments 'Islamophobic'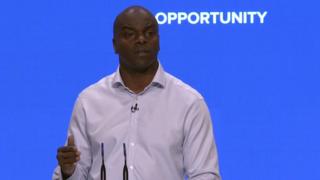 The Conservative candidate for Mayor of London has been labelled "Islamophobic" over comments he made 13 years ago.
In a 2005 pamphlet, Shaun Bailey wrote accommodating Muslim and Hindu cultures "robs Britain of its community".
This could lead the country into a "crime-riddled cesspool," he said. Campaigners and politicians have called his comments "grotesque".
But, a Conservative Party spokesperson said Mr Bailey "has always championed diverse communities".
Mr Bailey could not be reached for comment to respond directly to the criticism.
'Ludicrous suggestion'
But, a spokesman from his mayoral campaign team said: "As a descendant of the Windrush generation, and someone who has worked with diverse communities for over 20 years, Shaun knows full well the challenges faced by BAME communities."
"Whether it is working with one of London's biggest Muslim communities in North Kensington, or helping young people from all communities to fulfil their potential, Shaun has always championed diverse communities.
"Shaun has made it his life's work to help those from migrant and disadvantaged communities, and to suggest otherwise is ludicrous."
In the pamphlet, which focussed on opportunities for inner-city children, Mr Bailey claimed school children were being taught more about Diwali than Christmas.
"Removing the religion that British people generally take to" led to immigrants bringing problems from their country of origin, he argued.
During the report's chapter on multiculturalism he said "it is far easier for black people to integrate".
"Within the black community it is not such a bad thing because we've shared a religion and in many cases a language," he said.
Labour MP Andrew Slaughter said: "It is increasingly clear that he holds views that are at best divisive and at worst Islamophobic."
Mr Slaughter defeated Mr Bailey in the 2010 general election.
"This reaffirms that Mr Bailey is exactly the wrong person to be Mayor of London and why the Conservatives should not be in charge of London," he said.
The Hope not Hate campaign group called Mr Bailey's comments "grotesque".
"The Conservatives can't tackle their problem with Islamophobia if they don't admit they have a problem in the first place," they tweeted.