Sadiq Khan gives extra leave for premature babies' parents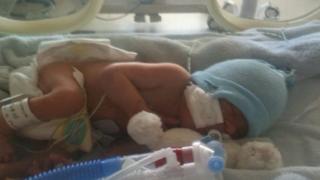 The Mayor of London says he will give extra leave to City Hall staff who have babies born prematurely.
Employees will now be entitled to paid leave if their baby is born early, or is in need of neonatal care in hospital.
Current law states maternity and paternity leave begins the day after birth - even if the baby is premature.
Similar policies have previously been adopted by Sony Music, Croydon, Southwark and Waltham Forest Councils.
Sadiq Khan says he hopes the proposals - which will undergo a month's consultation period - will "encourage other employers to learn from the approach".
If approved, a parent who gives birth to their baby before 37 weeks, will be entitled to a day's premature baby leave and pay for every day between their baby's birth and the due date.
In the same scenario parents going on paternity leave will be allowed an additional two weeks' leave.
Nearly 235,000 people have signed a petition calling for statutory maternity leave to be extended for parents of premature babies.
The petition is part of a successful campaign by Croydon mum-of-two Catriona Ogilvy - who gave birth to her first son, Samuel, 10 weeks early.
Mrs Ogilvy, founder of the premature baby charity The Smallest Things said City Hall's announcement was a "breakthrough".
However, she said the main aim of her campaign still had to see a change in legislation.
She said: "Visiting a premature baby on a neonatal intensive care unit is a traumatic, distressing time for parents without the added worry of work and pay.
"It certainly shouldn't count as parental leave."
Advice for employers on how to support staff members with premature babies was drawn up in 2017 at the government's request.