London window death: Family of Mick Ferris pays tribute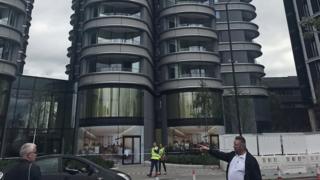 The son of a man who was killed by a window that fell from a luxury block of flats in central London has paid tribute to him.
Mick Ferris was fatally injured outside the Corniche apartments on Albert Embankment on Tuesday.
The 53-year-old was pronounced dead by emergency crews called to the scene. The Met said it believed he "was hit by something falling from a building".
His son Daniel described his father, from Hoo, Kent, as a "lifelong idol".
The Met said formal identification of Mr Ferris was yet to take place.
Property developer St James said it was investigating the circumstances of his death "as a matter of urgency".
The Health and Safety Executive also said it was making initial inquiries alongside police.
Writing on Facebook, Daniel said: "Heartbroken isn't the word to describe how myself and the family feel. I love you so much dad and I'll think about you every day. Always in my heart and mind."
Mr Ferris was a driver for the National Express-owned firm Clarkes Of London.
He was also a big supporter of West Ham United.
Television host and fellow West Ham fan James Corden paid tribute to Mr Ferris on Twitter, saying: "He was a huge West Ham fan and has passed away in the most sudden of circumstances."
Other fans took to social media to express their condolences to Mr Ferris.
Clarkes of London said it was respecting the family's right to privacy but said its "thoughts and sympathy were with the family at this difficult time".
A section of window from one of the penthouse properties could be seen to be missing from the structure.
Witness Paddy Riley, 59, said: "There was lots of blood everywhere and other stuff - it was very, very distressing.
"There was a lot of labourers standing looking and pointing up at the window and down at him but no-one was going near him."