Beckham speeding case: Star has 'shirked responsibility'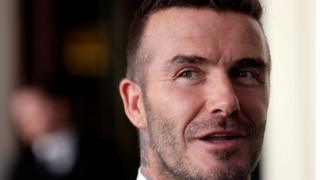 David Beckham is "shirking his responsibility" as a role model by avoiding prosecution for speeding, a road safety charity has said.
The former England football captain, 43, was accused of driving at 59mph in a 40mph zone in west London.
But his lawyer Nick Freeman - known as Mr Loophole - successfully fought to prevent action being taken, because a speeding notice arrived one day late.
Charity Brake said Beckham's actions were "disappointing".
Beckham was driving a loaned Bentley on the A40 in Paddington on 23 January. Mr Freeman said his client accepted he had broken the speed limit but challenged the charge on a technicality.
District judge Barbara Barnes said a Notice of Intended Prosecution (NIP) was sent on 2 February and should have arrived at Bentley Motors Ltd, the registered keepers of the vehicle, by 6 February.
However, she said Beckham "cannot be convicted" because the NIP did not arrive until 7 February - one day outside the statutory 14-day window.
Joshua Harris, director of campaigns for Brake, said he hoped the star "recognises his responsibility as a role model and makes clear to all those who look up to him that speeding is not acceptable".
"It is hugely disappointing to see a role model like David Beckham shirking his responsibility and getting off a speeding prosecution on a mere technicality," he added.
"At the speed Mr Beckham was reported to be travelling, his stopping distance would be double that of someone driving within the limit - he should count himself very lucky that no incident occurred and tragedy was avoided."
Mr Freeman said outside Wimbledon Magistrates' Court that Beckham - who did not attend the hearing - was "relieved with the verdict".
Mr Freeman added he felt "tens of thousands of pounds of taxpayers' money" had been "wasted" by the matter going to court because police should have checked the NIP dates and realised a conviction would not happen.
He said: "Had the Met Police done their job properly, he would not have been charged."