London mayoral election: Shaun Bailey chosen as Conservative candidate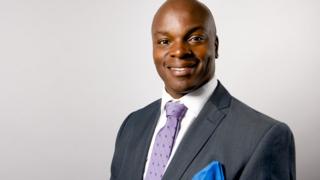 Shaun Bailey will contest the 2020 London mayoral election for the Conservatives, it has been announced.
The 47-year-old said tackling crime and building affordable homes would be some of his priorities if he is elected.
The former special advisor to David Cameron beat his fellow London Assembly Member Andrew Boff and Ealing Councillor Joy Morrissey.
In May 2016, Labour's Sadiq Khan beat Conservative candidate Zac Goldsmith.
Boris Johnson remains the only Conservative mayor of London, following election victories in 2008 and 2012.
Karl Mercer, BBC London Political Correspondent
Privately some Conservatives have suggested Shaun Bailey may be a little lightweight. He told me today that couldn't be further from the truth. But he will know the task ahead will be a tough one.
Like his fellow Conservative contenders, he is in favour of Brexit and hopes to lead a city that was the only region in England to vote to remain.
Labour has also done well in London in recent years and has more councils, councillors and MPs than the Conservatives.
It also has a much larger membership in the capital, foot soldiers who can cover the hard yards needed in a campaign.
Bailey was picked in a contest in which just over 7,000 Conservatives voted - about half of their London membership.
Much will be expected of them as they, and Londoners, get to know their new candidate.
Mr Bailey said: "It is a great honour to be selected as the Conservative Party's candidate for the 2020 London mayoral election.
"For someone who grew up in a council house in one of the poorest parts of London, securing this nomination is proof that our city truly is the place where anything is possible.
"London has given me so much.
"It's why I've spent my entire adult life trying to repay its generosity, either through my twenty plus years of youth work helping to steer children away from a life of crime and towards work opportunities, or my current involvement on the London Assembly, where I have done my best to hold the current mayor to account."
Shaun Bailey
Born in 1971, he grew up in the Ladbroke Grove area of West London, on the Bracewell Road estate. His family are of Jamaican origin
Worked as a social worker for nearly 20 years
Set up My Generation in 2006, a charity aimed at combating drugs, teenage pregnancy and encourage self-help, before it was dissolved in 2012
One of David Cameron's 100-strong "A list" candidates, he unsuccessfully ran as a parliamentary candidate for Hammersmith, west London, in 2010
Served as a special adviser for David Cameron between 2010 and 2013
Elected to the London Assembly in May 2016. He is currently deputy leader of the Conservative Greater London Authority Group
Cited a Public Enemy Song, "She Watch Channel Zero?!", as influential on his decision to enter politics
He has vowed to cut City Hall bureaucracy to free up more money for policing and to release more land for homes.
Labour criticised Mr Bailey's support for Brexit in the EU referendum and said he was part of the Cameron government that implemented cuts to the Metropolitan Police.
"London deserves so much better than this," Battersea MP Marsha de Cordova said.