Pret inquest: Baguette allergy alerts before girl's death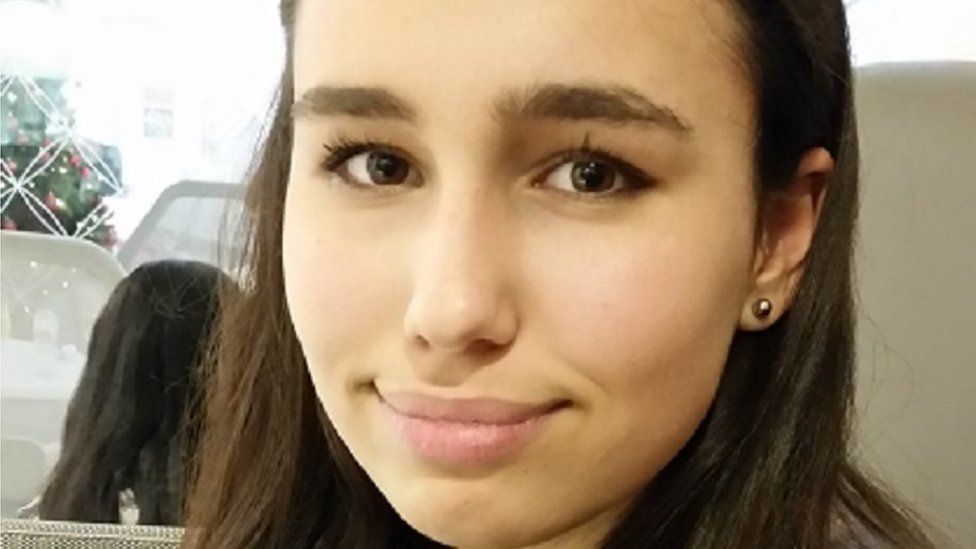 Pret A Manger did not label "artisan" baguettes as containing sesame seeds despite six allergic reaction cases in the year before a girl died, an inquest has heard.
Natasha Ednan-Laperouse, 15, reacted to the sesame in the outlet's baguette which she bought at Heathrow Airport before flying to France in July 2016.
A Pret A Manger representative said allergen policy had since been changed.
There were nine cases of sesame-related allergy incidents in the year before Natasha died, including six that involved "artisan baguettes", according to a complaint log for the company.
In one of these cases a woman nearly died after suffering an anaphylactic reaction from a baguette in October 2015, West London Coroner's Court heard.
Jeremy Hyam QC said the customer's family afterwards gave Pret A Manger a "specific warning", but the chain still failed to label sandwiches with allergy information.
The firm's head of Risk and Compliance, Jonathan Perkins, said Pret reviewed its warning notices in April 2016.
"When we get it wrong, we like to put it right," Mr Perkins said.
However, Nadim Ednan-Laperouse claims there was no label on the fridge the day his daughter died.
What are the laws on allergens in food products?
Sesame is one of 14 allergens that consumers must be made aware of when it is used as an ingredient in food products, according to EU Regulations
However, the EU rules say individual member states are responsible for deciding on how information about non pre-packaged food is provided to the customer
The UK's Food Regulations 2014 allow freshly handmade, non pre-packaged food to not be individually labelled
Pret confirmed at the time of Natasha's death products would not have been individually labelled with allergen or ingredient information, and that this was within regulations
However, Pret said there were signs in the fridge and at till points telling consumers with allergies to speak to a manager for advice or to see its allergen guide
Natasha, from Fulham in west London, had just finished school for the summer and was on her way to Nice for a four-day "special treat" with her best friend, Bethany, and her father.
The teenager, who suffered from numerous allergies, bought the artichoke, olive and tapenade baguette from a Pret branch at the airport's Terminal 5.
She became ill 20 minutes into the flight before pleading with her father to help her.
Mr Ednan-Laperouse had previously described the "agony" of putting a phone to his daughter's ear so that his wife and son could say goodbye to her when he realised she might not survive.
Mr Hyam said: "There was a clear concern being repeatedly raised that artisan baguettes were causing sesame seed allergy problems, which were not properly responded to by Pret."
Mr Perkins replied: "We responded appropriately to each individual complaint at the time."
Food regulations do not require eateries like Pret, where food is handmade and packaged on the premises, to put allergen information on each individual food item.
Pret opts to provide the information orally and is supposed to have stickers within fridges telling customers to ask staff members for details.
Mr Hyam suggested Pret's approach lacked consistency, as it labelled some products "gluten free" and gave ingredient outlines on fridge shelves.
A photo of the branch where Natasha bought her sandwich, taken eight days after her death, appeared to show a fridge without the allergy sticker.
The general manager of the branch at the time said on Monday that he was "confident and sure" he had put stickers on the tills and fridges - but the inquest heard a health officer from Hillingdon Council visited in May 2017 and reported "no till stickers to be seen at the till area".
Mr Perkins said the changes made to Pret's allergy policy were "sound and just" but "there is more that can be done".
"The parent in me would want to change everything... the professional in me has to remain grounded," he added.
"The learning for me is that humans are fallible in their actions, we will at some times get things wrong."
The inquest is expected to last until Friday.
Related Internet Links
The BBC is not responsible for the content of external sites.