Stratford Centre stab victim 'in wrong place at wrong time'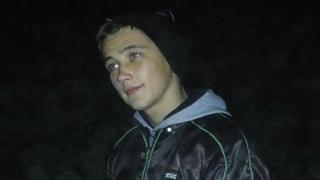 A man who was stabbed to death at a shopping centre was "in the wrong place at the wrong time", a court has heard.
Beniamin Pieknyi, 21, died after being attacked at the Stratford Centre in London on 20 March where he had met a friend after work.
The pair were "minding their own business" when they were attacked by a group of men, the Old Bailey heard.
Vlayslav Yakymchuk, 23, has already pleaded guilty to Mr Pieknyi's murder, jurors were told.
Four other men are facing trial charged with manslaughter and violent disorder.
Alexis Varela, 19, of Lillechurch Road, Dagenham, Moses Kasule, 20, of Ribbons Walk, Stratford, Kevin Duarte, 19, of no fixed address, and Mario Zvavame, 18, of Crow Lane, Romford, all deny the charges.
'This is our area'
On the day, CCTV footage showed the group of men "spoiling for trouble [and] hassling random members of the public who got in their way", prosecutor Duncan Atkinson QC told the court.
Mr Pieknyi "came to be in the wrong place at the wrong time because he had come to London to meet up with his friend," he added.
Mr Pieknyi's friend, 25-year-old Alexander Suciu, had been approached by Mr Varela, who was riding a bike with Mr Duarte sitting on its handlebars.
Mr Duarte then hit Mr Suciu on the head, Mr Atkinson told the court.
A few minutes later, they passed Mr Suciu again and shouted words to the effect of "this is our area".
Mr Duarte and Mr Varela were joined by other members of the group who continued to provoke Mr Suciu and Mr Pieknyi, with Mr Yakymchuk grabbing Mr Suciu's glasses and refusing to give them back, Mr Atkinson said.
'Wanted further violence'
The argument then escalated into a fight with Mr Kasule allegedly delivering a flying kick to Mr Pieknyi that took him to the ground, jurors were told.
A security guard intervened and ushered Mr Suciu and Mr Piekyni to the exit of centre.
The pair were followed out by Mr Yakymchuk who "wanted further violence," the court heard.
As they reached the exit the defendants rushed forward and Mr Yakymchuk stabbed Mr Piekyni fatally in the chest, the court heard.
The court heard the defendants were known to regularly hang around in the centre.
The trial continues.