Lorry driver sued over cyclist Janina Gehlau's death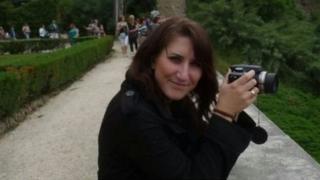 The family of a cyclist who died after being hit by a lorry are suing the driver and his employer for negligence.
Janina Gehlau, 26, from Dusseldorf, died in 2014 when Vincent Doyle's lorry ran her over at Ludgate Circus in the City of London.
Mr Doyle was found not guilty of causing death by careless driving by jurors at the Old Bailey in 2016.
Mrs Gehlau's mother said the new private civil claim aimed to hold "those responsible accountable".
Launching the action against Mr Doyle and his employer, PJC Sweepers Ltd, Mrs Gehlau's mother Andrea Vogt said: "No amount of money will bring back my daughter. That has never been a consideration.
"This is about holding those responsible accountable and getting justice for Janina so we can finally grieve for her in peace."
"The English justice system has failed us," she added.
"Nothing has changed, no lessons have been learned from Janina's death."
The standard of proof is lower in civil cases than in criminal ones, so Mr Doyle could still be held liable for the incident even though a jury acquitted him of the criminal charge.
Defence lawyers DWF, speaking on behalf of Mr Doyle and PJC Sweepers, said the ongoing court proceedings meant it would be "inappropriate" to comment on the case in detail, but added: "This was a tragic accident and all involved extend their deepest sympathies to the family and friends of Mrs Gehlau."
During the 2016 trial, Mr Doyle denied the charge against him and insisted he had looked in his mirrors "five or six times" as he waited at the traffic lights.
The court heard the 47-year-old, from Willesden, failed to spot the postgraduate student in the cycle lane and she was sucked under his lorry's wheels as he turned left.
Mr Doyle suffered a nervous breakdown in the aftermath.
Slater and Gordon lawyer Patrick Maguire, acting for Mrs Gehlau's widower, Marcel, said: "There is doubt in the mind of her loved ones, who knew what a careful and experienced cyclist she was."
Mrs Vogt said: "It doesn't get any easier, time doesn't heal. A part of me died that day too and I don't think the pain will ever go away."