Homes flooded after London water main bursts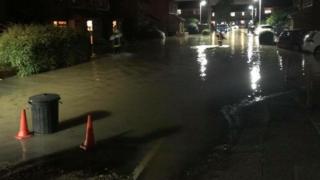 A man has been taken to hospital and 80 homes were flooded after a water main burst in west London.
Lifeboats rescued people as sewage flowed from Falling Lane, West Drayton, on Sunday. Electricity and water supplies to the area also failed.
An unwell resident was evacuated by a Fire Rescue Unit boat before being transferred to hospital.
Flood water has since subsided but work continued to repair the burst water main, Affinity Water said.
About 40 firefighters were called at about 20:40 BST, leaving about five hours later.
Residents said by the time the fire brigade came out with sandbags, water was pouring into their homes, according to the Local Democracy Reporter Service.
Marian Haskins, 74, who was evacuated by boat along with her pet dog, said: "I was in bed and the fire brigade came round and gave us sandbags. I put them against the door but it was no good.
"All of a sudden the water flooded in. It went right through my lounge and conservatory and ruined my new kitchen.
"It's been a bad year for me and this has just topped it off. I feel like I've got no luck."
Sabrina Bradbury, of Angelica Close, which was also badly affected, said it was "chaos".
"It was horrendous. All the floorboards and skirting boards were just coming up.
"It was like walking on one of those things at the funfair where there's a wobbly floor."
Affinity Water said: "Our production and supply teams have imported water into the affected area and customers should have a water supply.
"This may be at a lower pressure than normal until the works have been completed."