Lewis Blackman death: CCTV shows victim chased by group of 20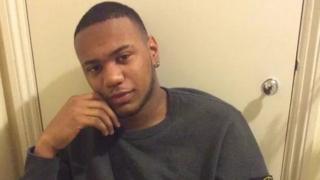 A jury in the trial of a teenager killed in west London, have been shown CCTV of him being chased and repeatedly stabbed.
Lewis Blackman, 19, was stabbed 14 times after being chased from an Earls Court flat party he and his group of friends had earlier tried to gatecrash.
Six boys, including four 17-year-olds and two 16-year-olds, are on trial at the Old Bailey accused of his murder and causing violent disorder.
They deny all charges.
Det Con Dave Field showed jurors several clips of Mr Blackman and his friends running along Logan Place in the early hours of the morning of 18 February.
They were pursued by a group of around 20 people - many of whom appear to be armed with knives and sharp objects.
Mr Blackman appeared to be stabbed in the back by one of the defendants before staggering and stumbling to the floor.
Prosecutor Oliver Glasgow QC described to the jury that a number of the men could be seen in the footage being part of the chase and the alleged attack.
He said: "You can see the glint of the knife from the stabbings. You see four or five stab wounds from one defendant, then another.
"You see several stabbing motions then another defendant where we can see something glint in his right hand.
"Then the group run away. A friend of Lewis Blackman comes into view raising his right arm and goes to his friend."
Mr Blackman, who was from Camden and known as "Dotty", was pronounced dead at the scene.
The trial continues.