Knives and alcohol sold to children in London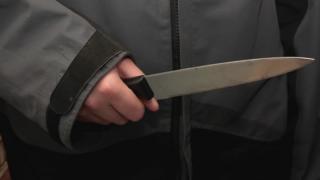 Shops in London are selling knives, alcohol and tobacco to children as young as 13.
Over 2,500 test purchases carried out by London Trading Standards (LTS) revealed the age-restricted items being sold to under-18s.
A total of 285 illegal sales were recorded, with 14% of shops selling knives and 12% selling alcohol. The Met Police said it was "unacceptable".
There have been 64 fatal stabbings in London since January.
Sophie Linden, deputy mayor for policing and crime, said: "The only way we are going to rid our streets of these dangerous weapons is by working together to stop them getting into the hands of young Londoners."
Over an 18 month period, 26 local authorities conducted test purchases for knives, alcohol and tobacco using volunteers between the ages of 12 and 17.
Retailers currently face six months in jail or a fine of up to £5,000 for underage knife sales.
'Further training'
Earlier this year, a large sports and outdoor equipment store in Wandsworth, south London, was fined £20,000 after being caught selling a knife to a teenager.
In the process of buying the knife at Decathlon LTD - the volunteer - a 16-year-old girl, spoke to two different sales assistants, neither of whom questioned her about her age or challenged her about the purchase.
She was able to purchase a foldable lock-knife with an 8cm stainless steel blade without question, LTS said.
Decathlon said knives have since been removed from the shop floor and teams have received further training about the sale of knives.
The latest Met Police figures show a 12% rise in knife crime compared to the previous 12 months, with the force recording 8,704 knife offences this year.
LTS has been working with the Met on Operation Sceptre, which aims to reduce knife crime.
Vicky Foxcroft, the MP for Lewisham Deptford, described LTS's findings as "deeply troubling" - "particularly in a year where knife crime nationally has reached an all-time high".
"The Government must take stronger action to ensure children cannot purchase knives," she said.
"I would personally like to see legislation in place to ensure all knives are behind counters in shops, a higher minimum age for the purchase of knives and stricter sentences for retailers who fail to ID."