Murder trial halted as third man is charged over attacks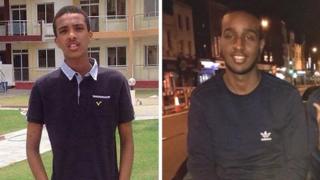 A double murder trial has been halted after a third man was charged over a series of violent attacks in Camden and Hackney which left two dead.
Abdikarim Hassan, 17, and Sadiq Aadam Mohamed, 20, were both killed within hours of each other on 20 February.
Isaiah Popoola and Ben Drummond, both 19, were standing trial for the murders and related crimes at the Old Bailey.
The trial was halted after an 18-year-old man was charged with murder, to allow all three to be tried together.
The man appeared at Highbury Magistrates' Court on Thursday also charged GBH and attempted GBH.
Judge Richard Marks QC told jurors at the Old Bailey the decision to discharge them was "regrettable".
He added: "The way this case was opened, there are a number of other people involved in this along with these two defendants and there should be others in the dock with them.
"It would be undesirable to have separate trials in this case."
Mr Popoola is accused of the murder of both Mr Hassan and Mr Mohamed.
They were among five victims allegedly attacked by a group of men between 20:15 and 22:15 on the same night across parts of Camden and Pembury Circus, Hackney.
Mr Popoola also faces charges of wounding with intent, attempting wounding with intent and violent disorder.
Mr Drummond, 19, faces charges of violent disorder and the murder of Mr Mohamed.
Both men deny all the charges.
Eight other people have been arrested in connection with the murder investigation, four of whom have been released with no further action being taken and three have been released under investigation.
A 17-year-old boy was earlier charged with both murders but the Crown Prosecution Service discontinued the case.
The trial is set to take place on 11 March 2019.