Lewis Blackman death: Teens 'celebrated' after fatal knife attack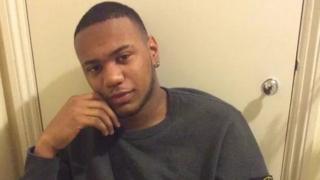 A group of teenagers "celebrated" after carrying out a fatal knife attack on a man who gatecrashed a girl's 16th birthday party, a court has heard.
Lewis Blackman, 19, was stabbed 14 times after being chased from the rented flat in Earl's Court, west London, on 18 February.
Six boys, including four 17-year-olds and two 16-year-olds, are on trial at the Old Bailey accused of his murder and causing violent disorder.
They deny all charges.
The court heard the girl circulated invitations on Snapchat and was careful only to invite people from Hackney to the flat, rented through the Airbnb website.
However, Mr Blackman, from Camden, turned up uninvited as part of a group of 10
Jurors were told the girl knew of "history" from men between the two areas.
Mr Blackman, known as "Dotty", arrived armed with a knife, while his friend had a firearm when they tried to force their way into the party, causing damage and forcing some guests to flee "in terror", the court heard.
A larger group of partygoers, some also armed with knives, were caught on CCTV chasing Mr Blackman.
Prosecutor Oliver Glasgow QC said: "He was stabbed, he fell to the floor and he was then set upon. The brutality of the attack, which saw him stabbed a total of 14 times as he lay defenceless on the ground, is truly shocking.
"What is perhaps even more disturbing is the apparent celebration that his killers enjoyed after he had been fatally wounded and the calm and carefree manner in which they walked away."
The prosecutor said eyewitness accounts, along with "truly shocking" CCTV, provided "clear evidence of the shocking and brutal" murder of Mr Blackman.
He said of the defendants, who cannot be named because of their age: "They were determined to seek revenge for the way Lewis Blackman and his friends had behaved and they did not stop until they had caught someone and punished that person."
The trial continues.