Hayes man jailed for life for murdering 71-year-old mother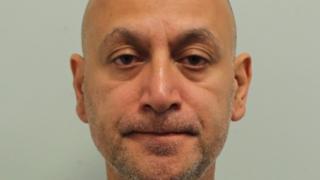 A man who strangled his mother after she asked him to leave the family home has been handed a life sentence.
Majid Butt, 51, previously pleaded guilty to murdering 71-year-old Onees Khatoon at the house they shared in Hayes, west London, on 13 May.
The Old Bailey heard he confessed at a police station 30 minutes after he killed her with an electrical cable.
He was jailed for life with a minimum term of 15 years and 10 months for the "act of unusual wickedness."
"Everyone has a duty to care for and protect their mother. You breached that duty in the most emphatic way," Judge Nicholas Cooke QC said.
The court heard Butt had lived with his mother for a total of 41 years.
He was invited back into her house in October last year, having been asked to leave when his father died in 2009.
In a letter written from his cell in Belmarsh prison last month, he expressed "deep" remorse for the "moment of madness".
"I accept for my crime I deserve to be punished. It is my family who are now being punished and suffering for my shameful behaviour," he said.