Crossrail: Concerns over governance and over-optimism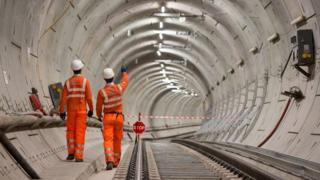 If there is a definition of infrastructure hubris, then Crossrail's mantra "on time and on budget" surely is it.
I'd be surprised if that phrase is ever used again.
Today at the London Assembly transport committee, we got more insight into how quickly the completion of the project unravelled.
What was very evident was a simmering frustration from the Deputy Mayor for Transport Heidi Alexander.
Londoners will be pleased to learn 95% of stations are complete and all could have been finished by the end of the year apart from Bond Street.
But it was also revealed there is not yet a train Crossrail can do signal system testing on. And that is why the project has been delayed.
Ms Alexander told the committee she had concerns over the governance and oversight of Crossrail - implying that it was too autonomous - and if she had her way then she would set up the systems rather differently.
She thinks the industry could learn a lot of lessons.
The former Lewisham East MP also made it very clear she was not told about the delay to Crossrail until August.
The project's executives said they had started "briefing concerns" to stakeholders in May and June but she says she was only told about the budget shortfalls.
The publication of Crossrail board papers may shed more light on that, as will an independent Transport for London (TfL) report.
There was also the accusation from the Ms Alexander of "undue optimism" within the senior management team at Crossrail in meeting the December 2018 deadline.
What is very clear is something was not right within the warning systems and communications of the delay.
There are still questions around the governance and oversight of the mayor and the Department for Transport (DfT), and what influence they had when things started to go wrong on Europe's largest construction project.
It is bizarre that the both were told so late in the day.
Caroline Pidgeon asked the Chair of Crossrail Terry Morgan if he had considered his position. He said he had but defiantly said he wanted to finish the job.
For Londoners there is no start date for the service yet but there is still a mush of mixed responsibilities and lots of questions.
When it starts no-one doubts the project will be a huge success but unpicking the mess of the delay may take some time.