Extra officers added to London's Violent Crime Taskforce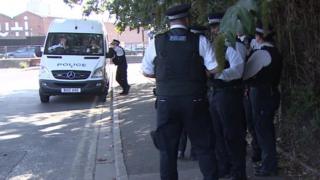 Extra officers will be added to a taskforce to tackle violent crime, the Mayor of London has said.
The Violent Crime Taskforce, funded by City Hall, has made 895 arrests and carried out 1,400 weapons sweeps since it was launched in April.
The 122 additional officers will transfer from the Met's Roads and Transport Policing Command (RTPC) for three months.
Mr Khan said violent crime levels in London were "unacceptably high."
However, London Assembly Conservative police and crime spokesman Steve O'Connell described the move as a "knee-jerk reaction" and "just sticking plaster".
"Rather than temporarily shifting officers around, the mayor should be setting out a robust, long-term plan for tackling violent crime," he said.
There have been 100 murder investigations launched in the capital so far this year, with about a third of the victims aged 16 to 24.
The existing taskforce of 150 officers was launched by the Met using £15m of funding from City Hall to make arrests and remove weapons from areas with the highest levels of crime.
It followed the surge in violent crime in the capital this year.
City Hall said the additional officers will give the force "a greater presence in areas with high levels of violent crime, as well as allowing more intelligence-led and targeted stop and search".
The officers will join the taskforce from the RTPC by Monday, taking overall staffing to 272.
The RTPC is the largest policing unit in the UK with more than 2,300 officers.
Mr Khan said: "This is drastic action that I would rather we didn't have to take, but the government's persistent refusal to give our police service the funding they desperately need has left with us with no choice."
He said it was "a temporary measure" and the Met would "work to minimise the impact" of officers being moved away from policing of roads.
Responding to the plan, a spokesperson for the Home Office said "police have the resources they need to carry out their vital work".
They added that funding for the Met is "increasing by £110m this year compared to 2017/18" meaning the force "will receive over £2.5 billion in direct resource funding this year".
The Met Police has not yet commented on the move.