Crossrail delay: TfL 'to miss out on £20m of revenue'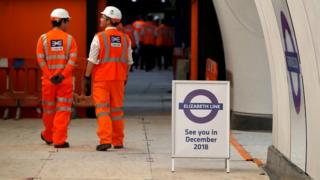 Some £20m of new revenue will be missed because of the delay in opening Crossrail, transport bosses have said.
Transport commissioner Mike Brown said the loss was "manageable" but added it was "too early" to confirm what extra costs will come from the delay.
He and other Crossrail bosses were giving evidence at the London Assembly following Friday's announcement the service will start in Autumn 2019.
Europe's biggest infrastructure project is already almost £600m over budget.
Mr Brown said Transport for London (TfL) had been expected to make £20m from new fares by the end of March 2019 if the service had opened in December.
Speaking about the possibility of additional construction costs, Mr Brown said the transport group would be "making provisions within our own plans" once the amounts were known.
TfL has already agreed to provide £150m of extra funds to the project at a time when it is facing major challenges in balancing its budget.
Mayor of London Sadiq Khan, who was also at the meeting, revealed he only found out about the delay two days before it was made public, despite having regular briefings with the Crossrail board.
"I am extremely disappointed, frustrated and angry by the delay," he said.
Sir Terry Morgan, chairman of Crossrail Ltd, said the firm had "raised concerns" about progress in July but had still been working towards opening in December.
Crossrail CEO Simon Wright explained to Assembly Members the delay had been caused by a combination of unfinished construction work and problems with testing.
He said an electrical explosion at Pudding Mill Lane in October 2017 meant tunnel trials could not begin until February this year.
"We started testing later than we would have liked and those tests have not gone as well as we would have hoped," he said.
When fully operational the route, to be known as the Elizabeth Line, will run from Reading and Heathrow in the west to Shenfield and Abbey Wood in the east.