Smithfield Market celebrates 150th anniversary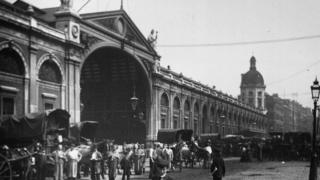 Shoppers and traders in London will celebrate the 150th anniversary of Smithfield Market.
For more than 800 years a market has existed on the site in some form. It closed in 1855, but was rebuilt and opened on 24 November 1868.
The Museum of London is running a series of events to mark the anniversary of its reopening.
Museum director Sharon Ament said: "It was the epicentre of market trading in London.
People came "from miles around to buy and sell their produce," she added.
'So much fun'
Greg Lawrence, who has worked as a market trader at Smithfield since 1966 said he is "incredibly proud" to work somewhere with such a rich history.
"There has been a meat market on this site for a thousand years and Smithfield Market is here by Royal Charter - so we can't be moved.
"I've only ever worked here and I'm so proud of it. Everyday is just a laugh. We have so much fun."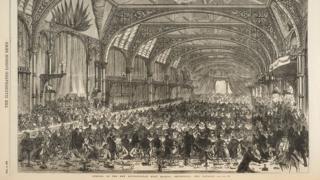 The market was referenced in Charles Dickens' Oliver Twist as a place where "countrymen, butchers, drovers, hawkers, boys, thieves, idlers, and vagabonds of every low grade, were mingled together in a mass".
The livestock market finally closed in 1855, in part because it was no longer big enough to meet London's meat demand, and was replaced by the Metropolitan Cattle Market in Islington.
The present Smithfield Market on Charterhouse Street was established by the 1860 Metropolitan Meat and Poultry Market Act.
Designed by architect Sir Horace Jones, who also designed Billingsgate and Leadenhall markets, the new buildings restored the market's position in the heart of the city.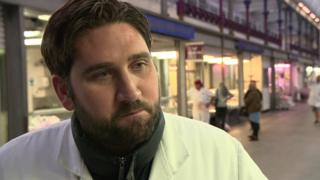 Lee Cattle, a butcher at Smithfield, said generations of his family have worked at the market.
"I have worked here since I was 18, and before that, my dad, my uncles, my granddad on my dad's side and also my granddad on my mum's side as well.
"I'm the last one standing. I've got twins but whether this is the life for them I'm not sure.
On his fitting surname, Mr Cattle said: "When I meet new people, they always think I'm having a laugh and winding them up."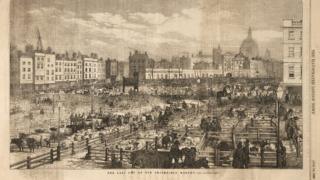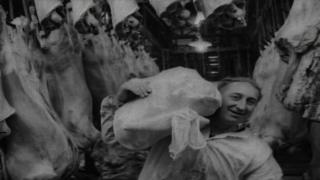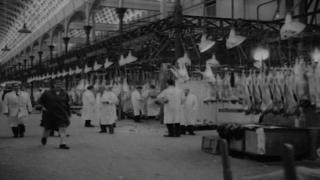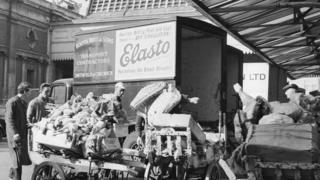 Events celebrating the market's anniversary will be held between 11:00-20:00 BST on Saturday and Sunday.