Mayor of London calls for power to limit minicab numbers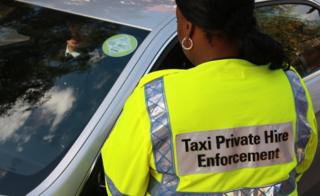 The mayor of London has urged the government to follow New York's example and allow a cap on the number of minicabs in the capital.
Sadiq Khan said an increase in private hire cabs needed to be halted to combat congestion and improve air quality.
But the Licensed Private Hire Car Association (LPHCA) accused him of trying to protect the black cab industry.
The Department for Transport is considering the proposal.
Last week, New York became the first major US city to approve a cap on ride-hail car licences - which includes app-based services such as Uber.
In a letter to transport secretary Chris Grayling, Mr Khan said: "Unlike New York, I don't have the power to cap the number of private hire vehicles in London.
"I am writing to again urge the Government to grant me that power as the mayor of London - alongside appropriate restrictions on cross-border hiring, to enable Londoners, like New Yorkers, to breathe better air and live in a less congested city."
A spokesman for City Hall said the mayor's office has been raising the proposal for a limit over several years as part of an on-going conversation.
The New York decision, he added, shows it was something that "can definitely be done".
In 2010-11, TfL counted 61,200 private hire drivers and 50,663 private hire licensed vehicles in London. This went up to 113,645 drivers and 87,921 vehicles in 2017-18 - an increase Mr Khan described as "massive" and "unsustainable".
But Steve Wright, chairman of the LPHCA, said a cap would only push up prices, make it harder for companies to recruit drivers and leave minicab users stranded.
He added: "This is a ridiculous proposal. It's just a draconian thing from years gone by. It's protecting the black cab industry and will be detrimental to consumers."
Uber said it was "committed to helping address congestion and air pollution".
The DfT is considering a report by a group commissioned to look into handing extra powers to City Hall regarding private hire cars.
The group's report is due to be published next month.