Father and son cleared of Fortnum & Mason champagne theft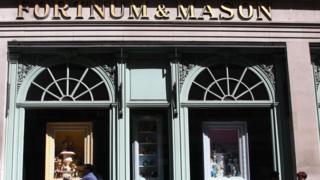 A father and son have been cleared of stealing eight bottles of champagne worth £348 from Fortnum & Mason.
Douglas Vallender, 53, and his 18-year-old son Jack, of St Ives, Cornwall, denied theft from the high-end store in central London last May.
The prosecution had described the alleged theft as "brazen" as Southwark Crown Court heard they simply walked out of the store with the drinks.
But they claimed that had forgotten to pay and a jury found them not guilty.
'Slipped our minds'
Recorder Michael Howard QC told the jurors: "You have come to a decision extremely quickly. It has been a short case, which is perhaps not surprising.
"I am sure the defendants are grateful to you and the court is grateful to you in deciding the case as you have."
It was alleged the two men filled a branded Fortnum & Mason bag with the champagne and then just walked out of the shop on Piccadilly.
They were stopped a short distance away by store security guards.
Douglas Vallender, who said he knew where to pay, said that in this instance paying had "slipped both our minds".
He told the court that he and his family visit the store about three times a year and he buys champagne to hand out as gifts for his holiday lets in St Ives and as presents for friends.