Teacher banned for life over dishonesty and misconduct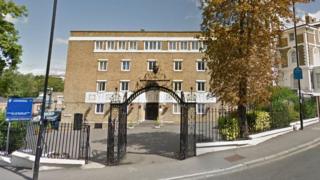 A teacher who committed a series of crimes after his marriage broke down has been banned from teaching for life.
Jeremy Clutson had been jailed for a string of offences including drink-driving, harassment and burglaries.
The Teaching Regulation Agency (TRA) found Clutson guilty of misconduct for not declaring his convictions "in a timely manner" in applying to work at London's St Francesca Cabrini school.
The school, where he was still working last month, has been asked for comment.
Clutson, who has worked as a teacher since 2000, told the TRA he had a "previously good record as a teacher".
The Catholic primary school's former headteacher told the regulator he "was a good teacher who built effective relationships with his pupils and their parents".
Alcohol treatment
After divorcing his wife in May 2008, Clutson committed a string of offences over an eight-year period, during which he was denied contact with his children.
It culminated in him being jailed for 15 months in June 2013.
He also received a number of additional suspended sentences, and had to undergo counselling, alcohol treatment and domestic abuse programmes.
After assessing his conduct, the TRA found Clutson was "not fit to act as a role models for pupils" and "had not shown any true remorse" for his actions.
He had "demonstrated a lack of integrity" by misleading the school when he applied to work there in around September 2016, the TRA said in its report.
The decision has been welcomed by Southwark Council which said it was "appalled" about by the case.
The Catholic Diocese of Southwark, which runs the school, failed to respond to the BBC by the time of publication.
Clutson, who was still employed by the school as recently as July, has since been dismissed, the DfE confirmed.