International jewel thief guilty of Clapham murders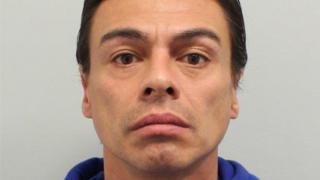 An international jewel thief has been convicted of murdering two men over £35,000 worth of stolen watches and a set of Napoleonic coins.
Gonzalo Andreas Gomez-Remolina, 36, stabbed Carlos Ayala and Ruben Fuente in Clapham, south London, in 2007.
Mr Ayala, who helped the defendant in at least one burglary, named his killer with his dying breath, the Old Bailey heard.
Gomez-Remolina was handed two life sentences with a minimum of 33 years.
His brother Christian killed himself in prison before his own murder trial, the court heard.
Fled on Eurostar
The jury heard the disputed haul included two Cartier watches, two diamond-encrusted Franck Muller watches, and eight coins said to be worth their weight in gold.
On the evening of 5 June 2007, 28-year-old Mr Ayala was stabbed 30 times outside his flat by the Colombia-born Gomez-Remolina brothers.
Before he died Mr Ayala - nicknamed El Frances - identified the brothers by telling his mother he had been killed by "Los Rolos", jurors heard.
Spaniard Mr Fuente, a friend of Mr Ayala, was in the "wrong place at the wrong time" and stabbed eight times as he tried to escape, the jury heard.
After the murders the brothers, from Bogota, fled on a Eurostar service to Paris, but Christian Gomez-Remolina was tracked down in Spain.
The Old Bailey heard he killed himself at Highdown prison in July 2008 while awaiting trial in the UK.
His brother was extradited from Mexico in January and stood trial alone for the two murders.
Prosecutor Brian O'Neill QC said Mr Ayala and the Gomez-Remolinas had "fallen out... over dividing the spoils".
The jury were told it escalated when Mr Ayala got some friends to break into the brothers' flat and the Colombians were beaten, their girlfriends tied up and watches and cash stolen.
The Gomez-Remolinas retaliated by trying to run over Mr Ayala and Mr Fuente in a car park.
Giving evidence, the defendant said he had gone to meet Mr Ayala to exchange eight Napoleonic gold coins for the stolen watches.
He had denied being involved in the killings, saying he had fled when Mr Ayala produced a knife and that his brother had confessed to the killings when they were on the Eurostar.
But the jury did not believe him and convicted him of the two murders.
Following the sentencing, Mr Ayala's family said his "kindness and love will never be forgotten".
Mr Fuente's family added they have "endured the greatest heartache".