London Heliport: Noise could pose 'health risk'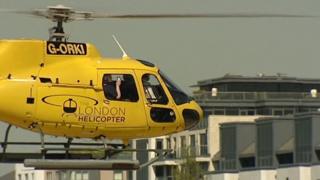 The noise at London's only commercial heliport may pose a risk to residents' health, research suggests.
Acoustics experts found noise levels at London Heliport in Battersea regularly exceeded recommendations set by the British Standards Institution (BSI).
Researchers from London South Bank University (LSBU) said the operator should consider compensating affected residents.
London Heliport said it was considering the findings.
The BSI recommends noise does not exceed 35 decibels in a living room and 55 decibels in the external parts of residential buildings.
But at Prices Court, an apartment block 150m from the site, a third of the days measured by LSBU experts had noise levels of more than 64 decibels, posing a "medium" risk of adverse long-term health effects due to noise exposure.
Up to 80 helicopters take off or land each day at the heliport, which is described by its owners as a "vertical gateway to London for VIPs, celebrities and the business community".
LSBU's Dr Stephen Dance, who oversaw the acoustics research, said the loudest level recorded at Prices Court was 85 decibels, which would sound like standing next to a motorway.
Health effects include symptoms of stress and high blood pressure, he added.
The three other sites tested showed mostly "low" or "negligible" health risk.
The report said any new planning applications for residential use should take measures to reduce noise impact, and that London Heliport should consider "the options for compensating residents who are adversely impacted in noise terms".
The council that commissioned the report said the findings were "very concerning".
Wandsworth Council leader Ravi Govindia added "hundreds if not thousands of residents" were affected by noise from the heliport.
Mr Govindia said it was not "fair" that London mayor Sadiq Khan's Draft London Plan proposes refusing any plans for new heliports in the city.
A spokesperson for Mr Khan said he was "sympathetic" to people affected by noise pollution from helicopters, but that he "has no powers to curb these flights".