Music mogul Jonathan King receives police apology over failed trial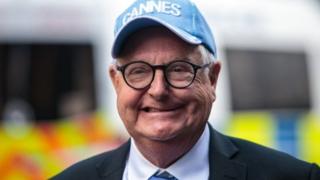 Surrey Police have apologised for serious failings in their investigation into DJ Jonathan King after the collapse of his trial in June.
There will be no further action against King, 73, and he will not be re-tried over alleged historical sex offences, police said.
King denied 23 serious sexual assault charges against teenage boys, alleged to have happened between 1970 and 1988.
His defence team said the investigation "lacked sufficient objectivity".
Surrey Police said it had been running a complex investigation running over several years and involving an "enormous" amount of data and documentation.
King's trial collapsed in June, and after it was confirmed that proceedings would not continue, the force said in a statement: "We deeply regret that despite these efforts we did not meet the required standards to ensure a fair trial."
"As a result, the evidence will not be tested by a jury and neither the complainants' nor the defendant have their voices heard in court. For this we wholeheartedly apologise."
Surrey Police is commissioning an independent review of the investigation.
Birds solicitors, who represented King, said: "This case is yet another example of failings in the disclosure process. The judgment of the court sets out the detail of those failings which the judge described as a 'debacle'.
"We have long expressed concerns about this investigation which we consider lacked sufficient objectivity and was run entirely contrary to the recommendations of the Henriques Report."
King, an ex-pop star and producer for acts including Genesis, was released from jail in 2005 after serving half of a seven-year jail term for abusing underage boys between 1983 and 1989.
He was previously found guilty at the Old Bailey in 2001 of sex offences against five youngsters aged 14 and 15.
The CPS said King originally faced 24 charges, but one was dropped.